A Stolen Secret From Thai Restaurants
I learned this very useful trick from working in Thai restaurants. Many of them have a pre-mixed "stir-fry sauce" that they put in EVERYTHING.
Sometimes they use it as is, like in a simple mixed vegetable stir-fry, or a simple fried rice like this chicken fried rice. And other times they use it as a base and add other ingredients to make it unique; more tips on that below.
Be sure to watch the video tutorial where I demo how to use this sauce in a basic meat-and-veggie stir fry, with lots of stir frying tips. It's like stir frying 101!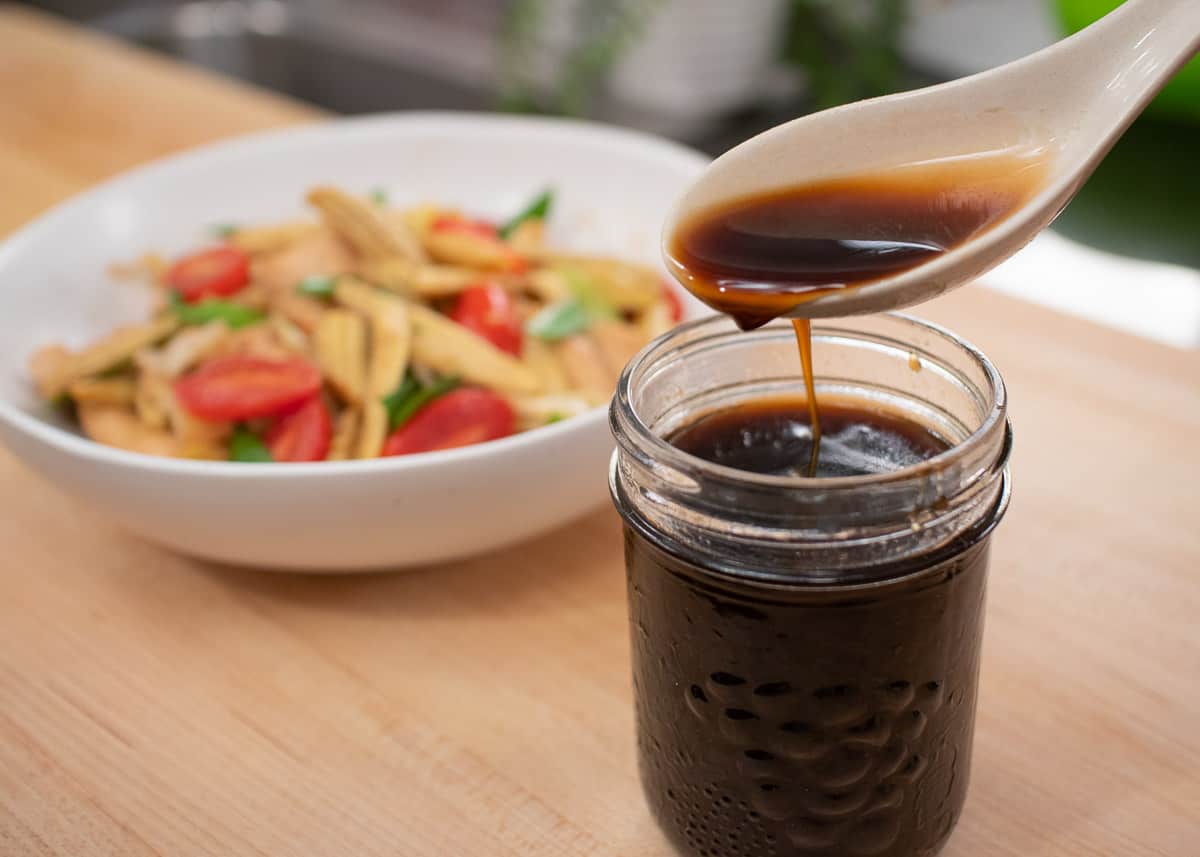 No, All Your Dishes Won't Taste the Same
You might think, wait, doesn't that mean all my stir fries will taste the same? No! The sauce isn't everything. All the veggies, herbs, meat, spices that you add contribute more flavour than you think.
Yes, the sauce has its own delicious taste, but because it is a salty sauce, its other primary function is to be "the salt" in the dish. In all dishes, salt is there to enhance flavours of all the other ingredients.
Think of it like this: if you eat mashed potato that's properly salted, you don't think, "mmm, this is salty mashed potato." But you DO think, "this is delicious mashed potato!" Salt brings out more of the potato flavour for you to enjoy. This stir-fry sauce does the same thing.
One Sauce, Many Possibilities
If you want to "jazz up" the sauce with other ingredients, here are some ideas. I would add these to individual dishes when you cook; not to the base sauce itself:
Thai chili paste or nam prik pao. This is a thick sweet-and-savoury, jam-like paste with an intense flavour. Check out this homemade Thai chili paste recipe to see what goes into it. I would add at least 1 tablespoon of chili paste per serving. Check out this recipe for Shrimp and Chili Paste Stir-Fry as an idea.
Thai fermented soybean paste or tao jiew. This can be described as the Thai miso, but with a runnier consistency. We often pair it with fish, or use it in a vegetable stir fry like this popular Water Spinach Stir Fry recipe.
Sugar. I always add a little bit of sugar to stir fries, not to make them sweet, but to balance the saltiness of the base sauce. It will give a more "well-rounded" flavour. You only need about ¼ - ½ teaspoon of sugar per serving, depending on what other ingredients you're using and what kind of flavour you're going for. You can also substitute any other sweetener.
Curry paste. While generally when we use curry pastes in stir-fries we only add fish sauce, it's certainly possible for you to use this base sauce instead. Check out this recipe for Cauliflower Stir Fry with Yellow Curry as an idea.
Sriracha or another hot sauce. This will add heat and also tartness because most hot sauces have vinegar. Check out this sweet and sour stir fry as an idea.
Black soy sauce or dark soy sauce. This will add a delicious-looking dark colour to your stir-fry, like in the iconic Pad See Ew. If used in large enough amounts it will also add a deep molasses-like flavour. Don't add too much though, as it can be a bit bitter and tastes funny. You can also add a little bit right into your base sauce if you always want it a little darker. Note: If using Thai black soy sauce it is not very salty, so you can add as much as needed, but if using Chinese dark soy sauce, it is quite salty, so you may need to use less of the base sauce if you're adding a lot into the dish.
How to Store The Stir Fry Sauce
Kept in the fridge, this will last indefinitely. The sauces are very salty, which means bacteria do not grow well in it. You still want to keep it refrigerated though because oyster sauce is the one ingredient in this mix that can get moldy at room temp.
How to Make a Vegan Version
Instead of oyster sauce, look for something called "Vegetarian Stir Fry Sauce." This is available in many big Asian grocery stores, and it will have a consistency similar to oyster sauce.
Instead of fish sauce, you can buy a vegetarian fish sauce substitute, but I've found that they're not always good. So unless you've found a brand you like, I recommend just using more soy sauce.
Use more than 1 type of soy sauce. If you're not using fish sauce, I recommend using both soy sauce and Thai seasoning sauce (like Golden Mountain Sauce) so you can achieve a more complex flavour. You can also use Maggi Seasoning or Bragg's Liquid Amino as well.
Other Useful Tips
You can also use this sauce as a marinade! Marinade chicken thighs for the oven, or slices of meat on skewers for the grill ... anything!
Still season your meat separately. If you're making a stir fry with meat, such as chicken, pork, or beef, I'd still add a little bit of soy sauce or fish sauce to the meat separately so that the seasoning is in the meat, not just in the sauce! I demo how to do this in the video.
Watch The Full Video Tutorial!
All my recipes come with step-by-step video tutorials with extra tips not mentioned in the blog post, so make sure you watch the video below to ensure success - and if you enjoy the show, please consider subscribing to my YouTube channel. Thank you!
Click here to watch the video on YouTube.
Also Check Out...
Got questions about any of the sauces I used? Check out the video on the left. Then try out this popular glass noodle stir-fry recipe using this base sauce!
---
Print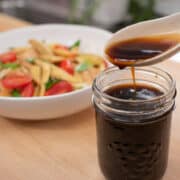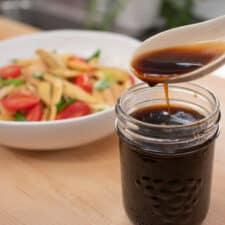 UNIVERSAL Stir Fry Sauce
Author:

Pailin Chongchitnant

Cook Time:

5 mins

Total Time:

5 minutes

Yield:

About ½ cup (8 servings)
---
¼ cup

oyster sauce
 2 tablespoon soy sauce
 1 tablespoon fish sauce
 1 tablespoon Thai seasoning sauce such as Golden Mountain Sauce (see note)
Note:
- You can also use Maggi Seasoning or Bragg's Liquid Amino instead. Or just sub more soy sauce.
- See post above for other ingredients you can add to "jazz it up" and create different flavours.
---
Instructions
Combine all ingredients together and store in a well-sealed container in the fridge.
When using, you need 1 tablespoon of sauce per 1 serving of stir-fry. This is a rough estimate, so be sure to taste and adjust every time.
You may want to add ¼ - ½ teaspoons of sugar per serving of stir-fry, depending on other ingredients and the flavour you're going for.
---