---
Watch The Full Video Tutorial!
All my recipes come with step-by-step video tutorials with extra tips not mentioned in the blog post, so make sure you watch the video below to ensure success - and if you enjoy the show, please consider subscribing to my YouTube channel. Thank you!
Print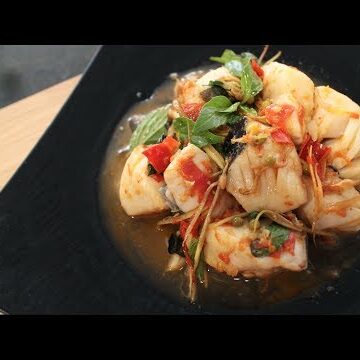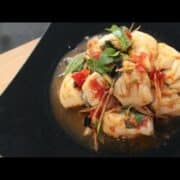 Fish and Herbs Stir-Fry ผัดฉ่าปลา (pad cha pla)
---
350 g

halibut, or another type of firm-fleshed fish, skin-on, cut into large cubes

4

cloves garlic

3

Cilantro roots (or

2 Tbsp

of chopped cilantro stems)

¼ tsp

white peppercorns
Thai chilies, to taste

1

spur chili, or another type of mild, large chili pepper, chopped

1.5 Tbsp

fish sauce

1 tsp

sugar

¼

-

½

cup water or stock

⅓ cup

julienned grachai, brined, loosely packed (see note)

1 Tbsp

young green peppercorns

1 cup

Thai basil
Note: Grachai or krachai, also known as "fingerroot" in English is an aromatic rhizome. It is hard to find fresh, but you can find it at some Asian grocery stores brined in a jar. Be sure to pack the juliennes loosely in the measuring cup. If using fresh grachai and you're chopping by hand, you will only need about 2 medium sized "fingers".  
---
Instructions
Marinate fish in ½ Tbsp of the fish sauce while you prep other ingredients.
In a mortar & pestle, pound together garlic, cilantro roots, white peppercorns, Thai chilies, and spur chilies until it resembles a rough paste.
In a wok, heat a little vegetable oil over medium heat and add the herb paste. Saute the paste until it starts to turn golden. Turn the heat up to high then add the fish and toss to mix with the paste briefly. Add the remaining fish sauce, sugar, and a splash of water; toss to mix. Add fingerroots and peppercorns, toss to mix, then let the fish cook without stirring until done, flipping the pieces half way through. Add a little more water if it becomes dry.
When fish is done, turn off the heat and quickly toss in Thai basil.
Serve with jasmine rice or another grain of your choice!
---