---
About Panang Curry
This recipe is a special collaboration with Never Too Small, and it has been slightly modified for lockdown. You can find the original recipe here.
Panang is a classic, much loved Thai curry that is very quick and simple to cook, which is why it's perfect one for lockdown! Instead of being soupy like most other Thai curries, this one is more of a saucy curry with a thick, rich, luscious, flavourful sauce.
Panang Curry Paste
You can sometimes find pre-made panang curry paste, but it isn't always available. However, Thai red curry paste is very easy to find, and with that, we can make our own panang paste! Take the red curry paste and add three simple ingredients: cumin, coriander seeds, and peanuts. Typically we use ground roasted peanuts, but for lockdown, a little peanut butter will do the trick.
Substituting Beef
This recipe calls for beef, but you can substitute any protein you have in the fridge! To make it vegan, you can us sturdy roasted vegetables such as eggplant, butternut squash, or portobello mushrooms. You can also substitute firm tofu as well!
Watch The Full Video Tutorial!
All my recipes come with step-by-step video tutorials with extra tips not mentioned in the blog post, so make sure you watch the video below to ensure success - and if you enjoy the show, please consider subscribing to my YouTube channel. Thank you!
Print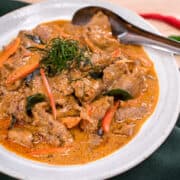 Thai Panang Curry - Lockdown Special
---
300g

beef, very thinly sliced against the grain

1½ tsp

fish sauce

2 tsp

oil

¾ cup

+

½ cup

coconut milk

1

recipe

homemade

or semi-homemade panang curry paste (recipe follows)

10

kaffir lime leaves, 7 roughly torn, 3 finely julienned (see note)

~1 teaspoon fish sauce, to taste

1 Tbsp

brown sugar

A handful of julienned red bell pepper for garnish, optional

Jasmine rice

for serving
Semi-Homemade Panang Curry Paste
3

–

4

tablespoon red curry paste

¾ tsp

toasted cumin seeds

, ground

1½ tsp

toasted coriander seeds, ground

2 tsp

smooth peanut butter
Note: You can find kaffir lime leaves, fresh, frozen or dried. But if you can't get to the store and don't have any, don't worry about it. You can try adding Thai basil instead as well. 
---
Instructions
For the curry paste, simply mix together red curry paste, cumin, coriander, and peanut butter

For the meat, add the fish sauce and oil and mix it together well. The oil will help the beef separate more easily when you go to cook it.

In a wok or saute pan,

bring ¾ cup of the coconut milk to a boil and let it reduce until it's thick and creamy. We're gonna use this fatty coconut milk to saute our curry paste.

Add the

curry paste, and keep stirring for a few minutes until it gets really thick and aromatic.

Add brown

sugar, the roughly tear in the kaffir lime leaves then cook it for a minute or so. 

Add the beef and toss it with the curry paste. You want to separate the pieces quite quickly so they will cook evenly. 

Once the beef is about half way cooked, add the rest of the coconut milk and stir

just

until the beef is fully cooked.

If you want you can add some r

ed bell peppers for some colour, and then take it off the heat.

At this point if it looks too dry and you want something a little more saucy, you can just add a splash of water. And b

ecause some brands of curry pastes are saltier than others, you want to give it a taste before you finish, and if it needs more salt, you can add a splash of fish sauce.

You can garnish with some julienned kaffir lime leaves if you have some, then serve it with s

ome hot Thai jasmine rice.
---