When I found out that people in Thailand are now cooking noodles in a rice cooker, it kinda blew my mind. I always thought of a rice cooker as something to cook only rice and rice-based dishes. But turns out, you can cook noodles, sauté things, and even finish a whole dish in it without using the stove once!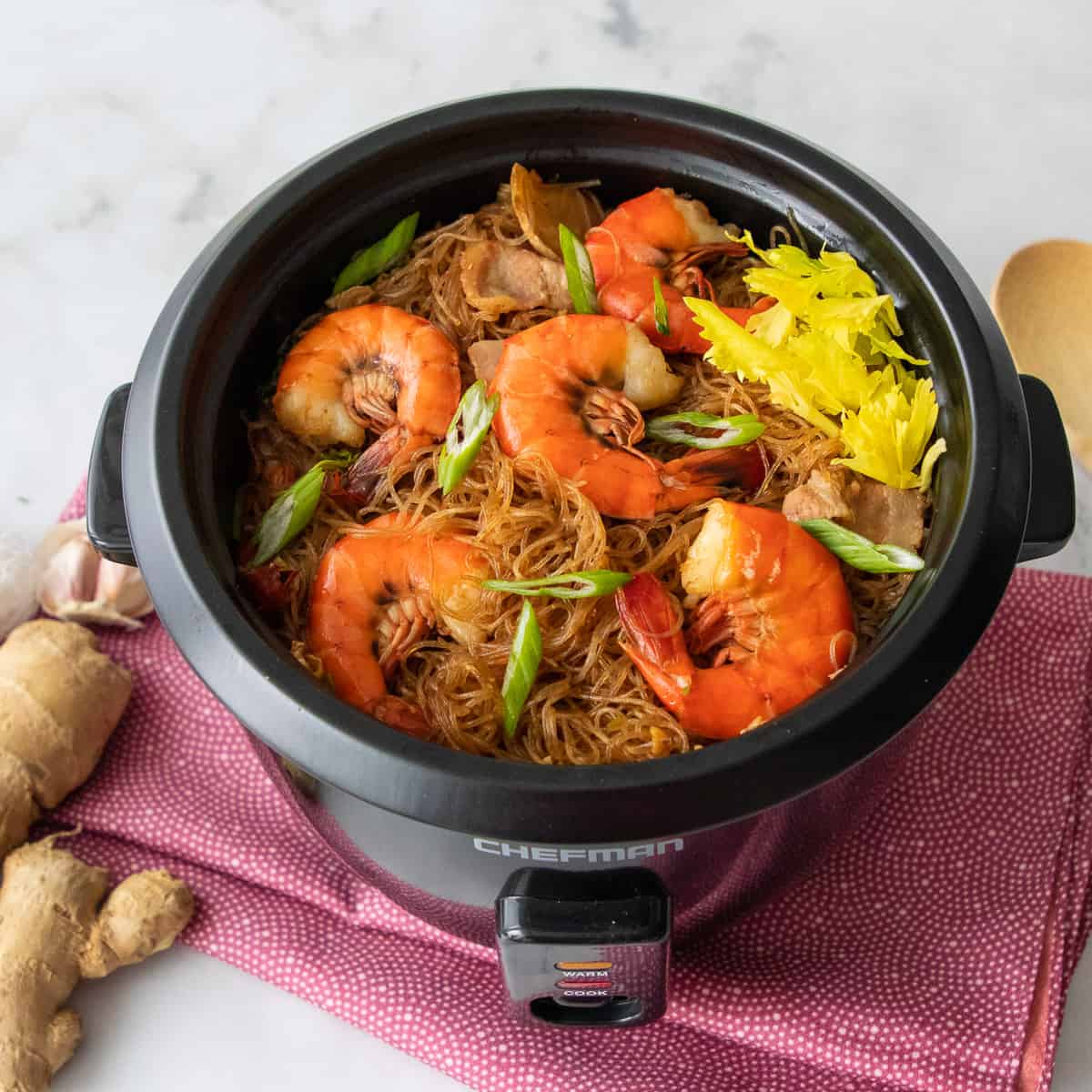 So in this post I will guide you through how to cook noodles in a rice cooker, when and why it works, and when it does not work. And then as an example, I'm going to show you how to make one of my absolute favourite Thai noodle dishes in a rice cooker - glass noodles with shrimp and ginger or Goong Ob Woonsen.
Jump to:
How Do Rice Cookers Work?
First, why would you want to cook noodles in a rice cooker anyway? What problem does this even solve? To answer that, we first need to look at how rice cookers work.
Rice cookers turn themselves off when the temperature at the bottom of the pot increases above a certain level. And when does the temperature rise? When the water has all been absorbed, because the presence of water keeps the temperature lower.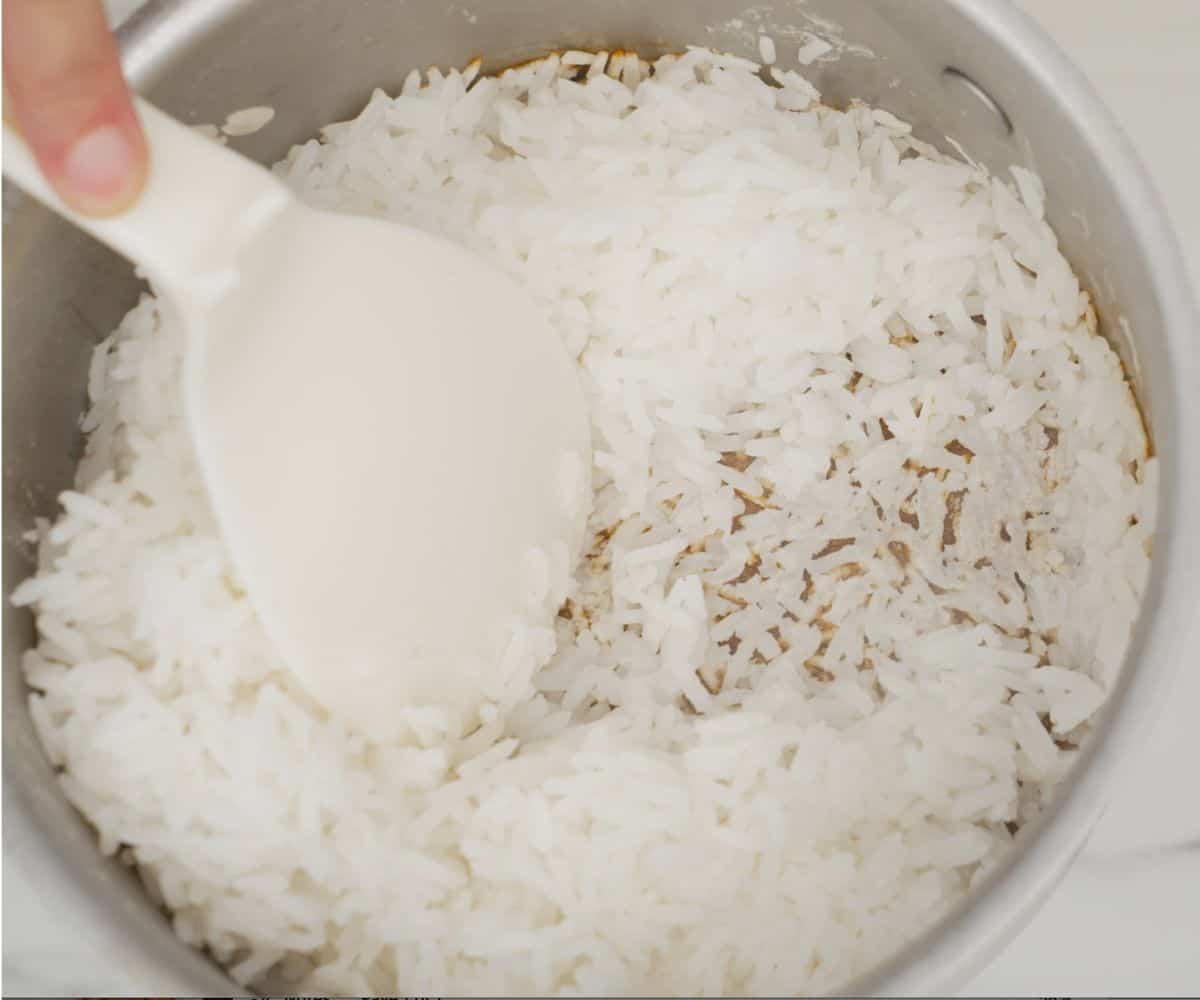 So when you cook rice (or in this case noodles) on a stovetop, you have to turn it off manually at the right time; and if you let it go for too long, or heat it too high, the bottom is burnt. By using a rice cooker, you don't have to worry about that because the rice cooker will turn itself off before it burns.
Why Cook Noodles in a Rice Cooker?
So now that we know how a rice cooker works, it becomes clear that the kinds of noodle dishes we're talking about here are dry noodle dishes, not noodle soups or things that are saucy.
To be clear, you CAN cook soupy/saucy noodles in a rice cooker, but you wouldn't be able to take advantage of the auto-shutoff, which means that it's no different from doing it in a pot on the stove. But if you're in a dorm room with no stove, then yes, you can use your rice cooker just like a regular pot!
What Kinds of Noodles Work Best?
The best noodles to use for this technique hands down are glass noodles, also known as bean vermicelli or bean threads. This is because they are extremely forgiving; it is hard to overcook them, they have a wide window of good texture, and they don't need to be constantly stirred to cook evenly.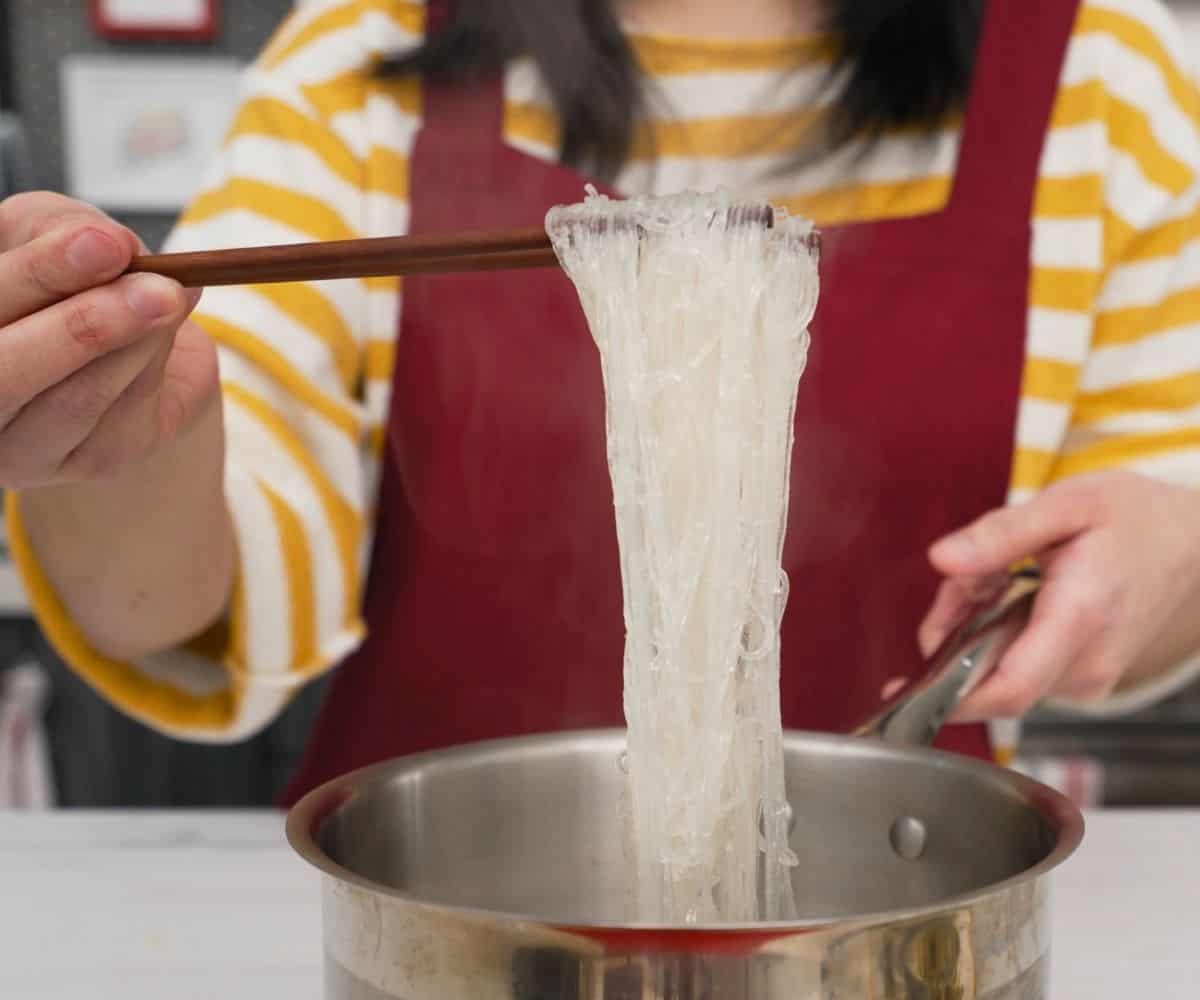 Glass noodles are considered the healthiest noodles in Thailand because they are lower in glycemic index than rice or wheat noodles. Per portion, they are also lower in calories because they can absorb much more water. And yes, they are gluten free and vegan.
Glass noodles also have a neutral flavour so they will work with all kinds of seasoning - we even make pad thai with glass noodles in Thailand! So the recipe provided here is just an example, but you can change up the seasonings and aromatics to whatever want - though keep the ratio of noodles to water the same.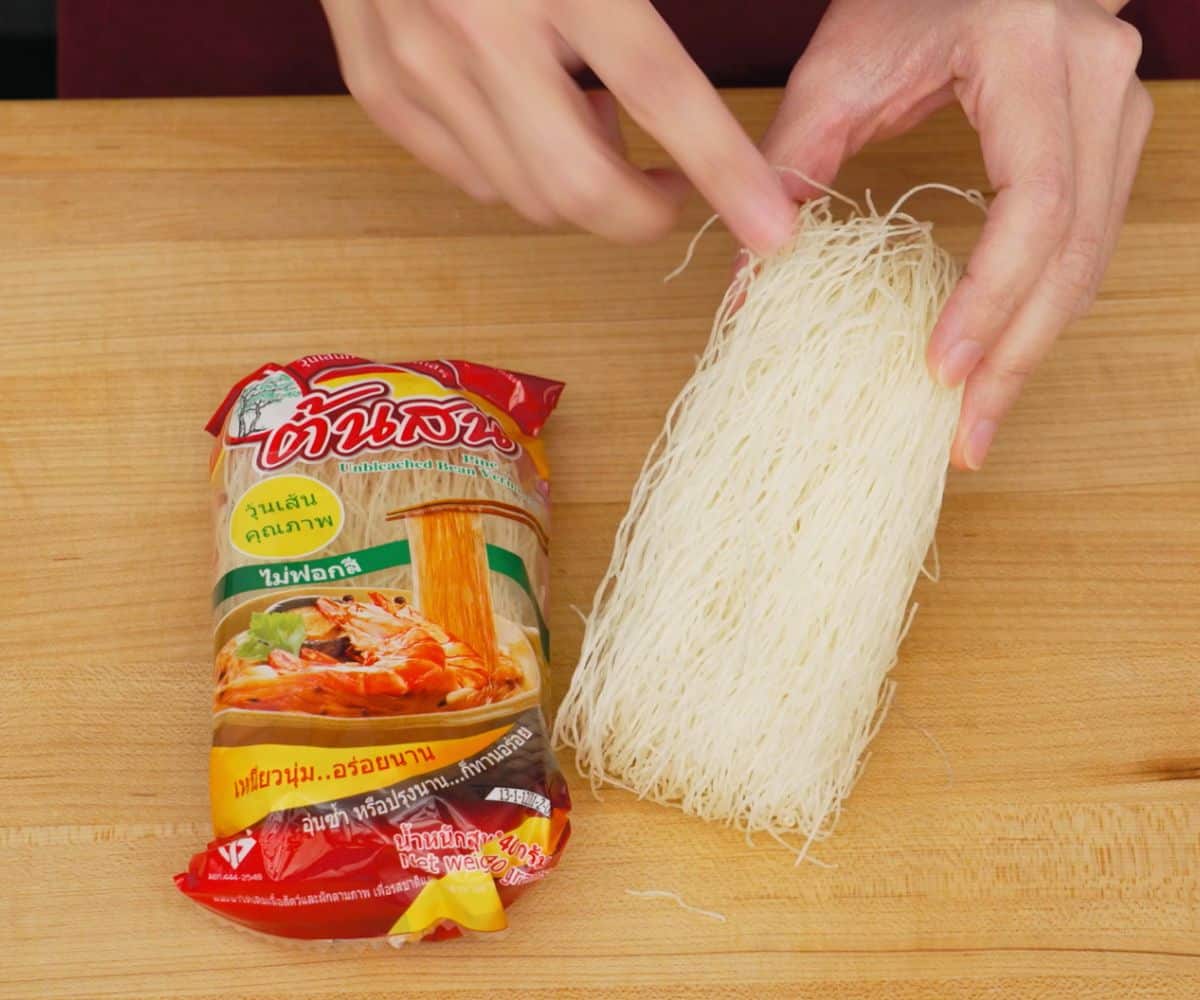 Look for a brand of glass noodles made from 100% mung bean starch for best texture such as Pine Brand, who are a regular sponsor for our videos!
Rice noodles also work here, but they are not as ideal because they overcook more easily, and they should be stirred more frequently in order to achieve even doneness. So you can use them, but it's going to be a little bit less hands-off. See more details on using rice noodles in the ingredient section below.
Do All Types of Rice Cookers Work for Noodles?
Any rice cooker will work in theory, but because we're going to be doing some sauteeing of herbs right in the rice cooker, AND because we're not cooking rice, you do have to understand the quirks of YOUR rice cooker.
Basic, One-Button Rice Cookers
These basic one-button rice cookers are actually the best for this job. However, some very old models have an aluminum inner pot which noodles will tend to stick to. So I would prefer one with a nonstick pot if possible.
One thing to watch out for is that most rice cookers have a spring-loaded button at the bottom that requires enough weight pushing down on it, or it won't cook. For many models, the weight of the inner pot alone is enough to activate it, but for some, especially cheap basic ones, the inner pot is too light to stay down.
So without enough ingredients in the pot, you may need the lid to be on to activate the cooking. This means that if you open the lid to stir the aromatics, it may switch to "warm" mode, so you'll just have to click "cook" again after you're done stirring and have closed it again. This is the issue I have with my rice cooker, so watch the video tutorial to see this in action.
Multi-Function Rice Cookers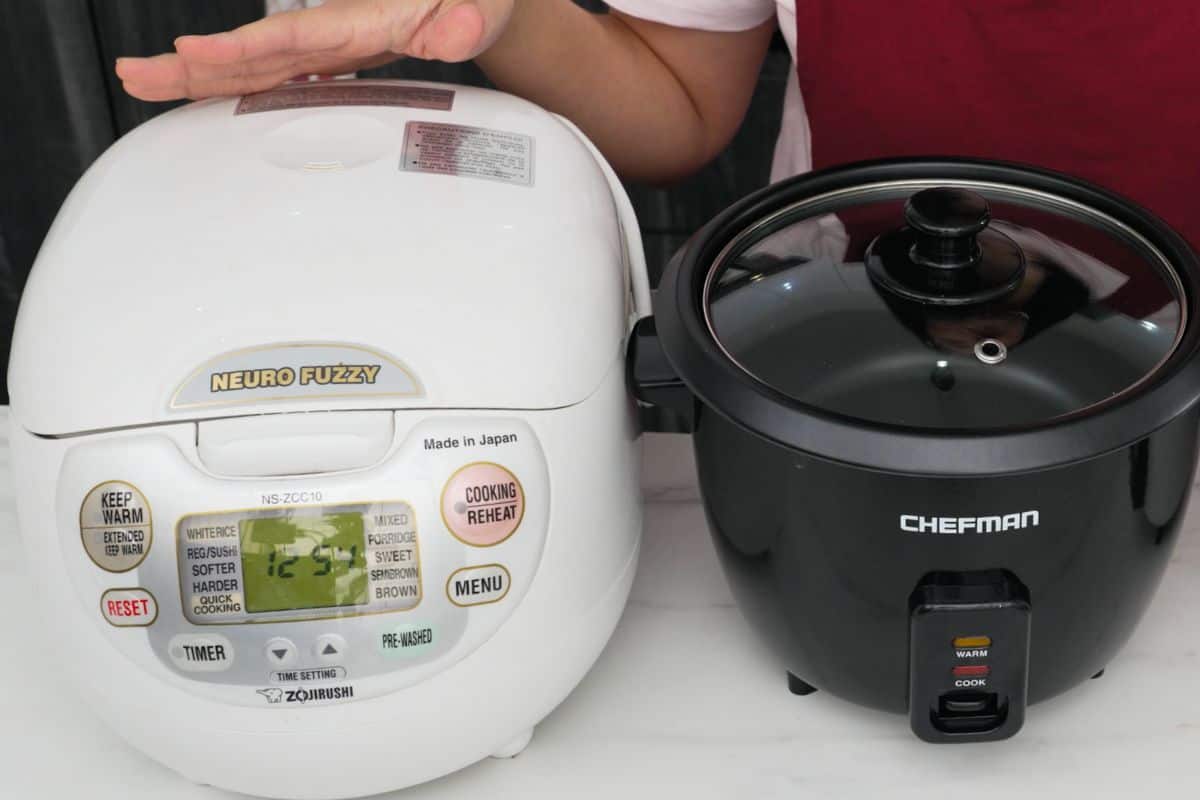 The fancy multi-function models such as the popular Zojirushi Neuro Fuzzy will work, but they can be a little too smart. They heat up slowly and they include a "rest period" at the end before the finish alert will sound. Both of these features are great for making rice, but not for noodles. So, if you've got one of these, here are 2 things to keep in mind:
The initial heat up will take a long time, so to minimize the wait use the QUICK COOK mode. On Quick Cook mine takes over 5 minutes before the aromatics sizzle in the oil. So put in the ingredients, close the lid, and go do something else until you hear the sizzling sound. Don't stand there waiting for it!
Unlike basic rice cookers, the "finish bell" won't ring as soon as all the water has been absorbed because of the built-in rest period. So to know when it's done, look for the countdown timer. Once it shows the number of minutes remaining, it means that the liquid has been absorbed and that the cooker has switched into its "rest" period.
Ingredients
Time to show you how it works, and for our example I'm making a super popular Thai noodle dish called goong ob woonsen, which is very well suited for this method. But don't get too hung up on the actual recipe, this is more about the method, and you can change up the seasonings and ingredients to whatever you want.
To make things easier to substitute, I've divided ingredients up into components: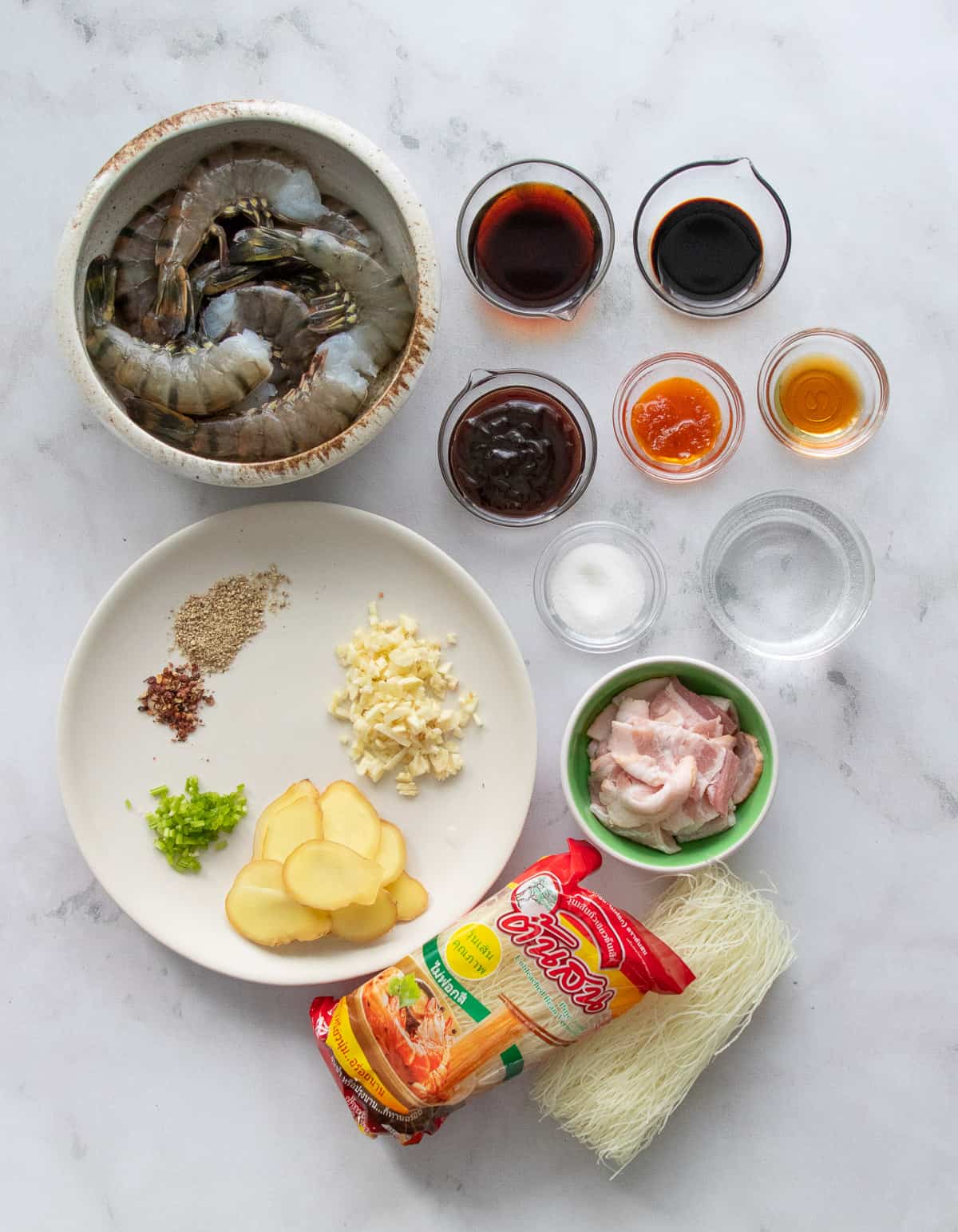 Seasonings
You can change the seasonings to whatever you'd like, but you do want to keep the ratio of liquid to glass noodles consistent because the noodles will need this water to fully cook.
Soy sauce
Oyster sauce
Black soy sauce or dark soy sauce
Sugar
Toasted sesame oil
Shrimp paste in oil (optional)
Chicken stock or water
Aromatics
The following are the classic aromatics for the shrimp and glass noodle dish, but you can make this as simple as some chopped garlic and maybe some onions.
White pepper
Sichuan peppercorns
Garlic
Ginger
Cilantro stems
Noodles, Veg, and Protein
Veg oil or bacon. It's common in Thailand to use rendered pork belly fat for this dish, but you can also use veg oil. Bacon is convenient, but uncured pork belly slices is fine too.
Dry glass noodles (sometimes labelled "bean vermicelli" or "bean threads"). Very thin clear noodles made from mung bean starch; and these are not to be confused with Korean sweet potato noodles which are much thicker and cannot be substituted in this recipe.
Shrimp, deveined with shell on preferred. You can substitute chicken, and if so I would recommend dark meat, cut into bite sized pieces about ½-inch thick. Since the protein will cook together with the noodles, you want to make sure they are not cut so thin that they will overcook, or so thick that they will be undercooked. Tofu or other plant based proteins can also be used instead.
Inner leafy stalks of celery or one stalk of Chinese celery
Using Rice Noodles
Thin rice noodles can also be used but as mentioned earlier, they're less forgiving, and you will need to stir them more often - I'd stir them every 1 minute. Thinner noodles are also better since they will cook faster and require less stirring and fiddling from you. I recommend using these 2 thin types of rice noodles:
Super thin rice vermicelli, like the ones that I use in this vegetarian pad see ew recipe. Fully soak them in room temp water until completely pliable; 5-15 minutes depending on the brand. In addition to your seasonings, add ¼ cup (60 ml) of water or stock for every 4 oz (115 g) of dry noodles to start, then you will need to taste and add more as needed because different brands have slightly different thicknesses, which you can read more about in the vermicelli pad see ew post.
Pho-style rice noodles, size "small." This is one that I use in many of my noodle soups such as ones I use in my Thai chicken noodle soup recipe. Soak in room temp water for 20 minutes or until they're completely pliable. In addition to your seasonings, add ¼ cup (60 ml) of water or stock for every 4 oz (115 g) of dry noodles to start, then you will need to taste and add more as needed because different brands have slightly different thicknesses.
Note: Exact soaking time will depend on the brand and also the temperature of your "room temp" water, but when fully soaked, the noodles should completely droop when picked up, showing no resistance to gravity. In a rush, you can use warm water to speed this process up.
How to Cook Noodles in a Rice Cooker
Here's a bird's eye view of the process, but I highly recommend watching the video tutorial to ensure success!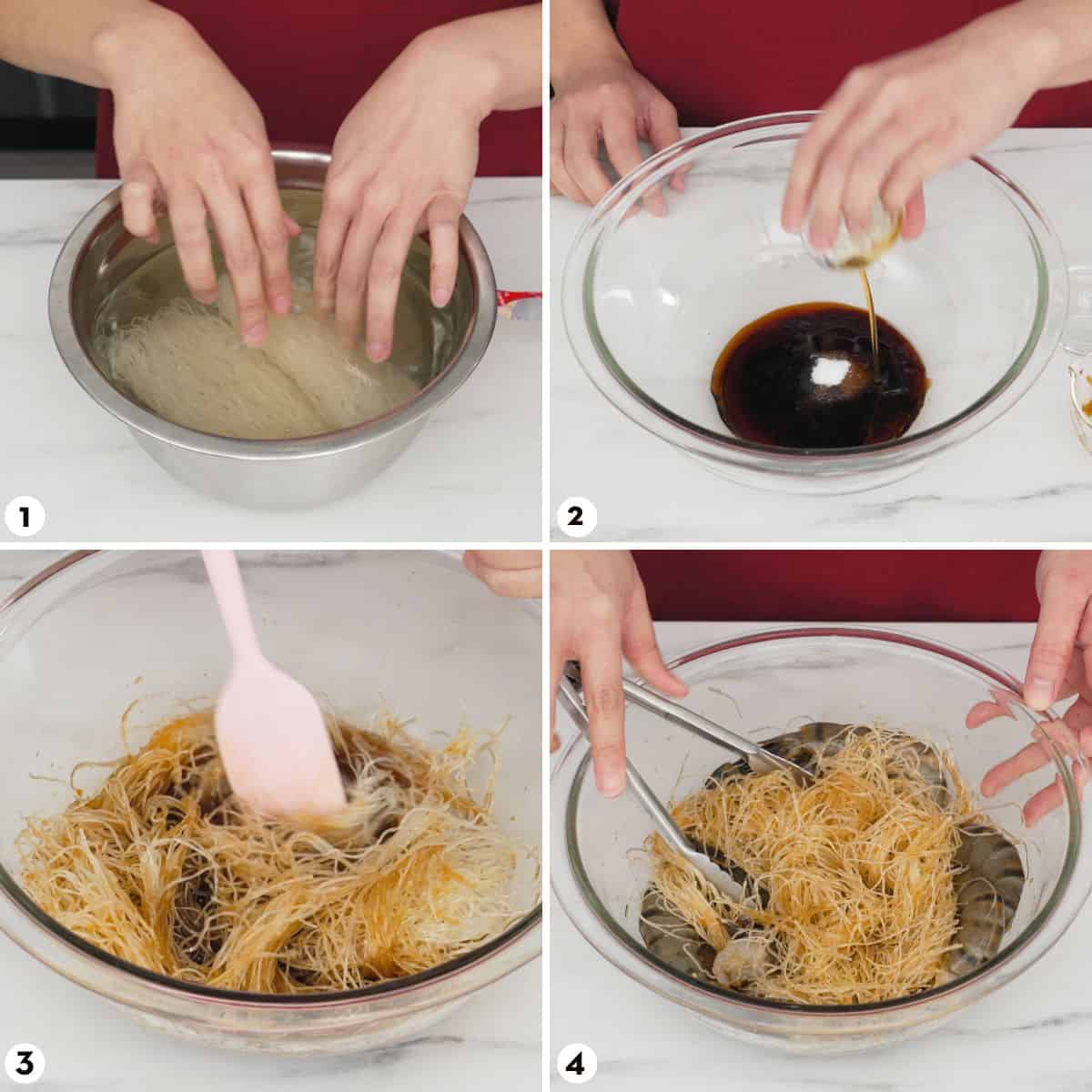 Soak glass noodles in room temp water for at least 10 minutes. Drain and cut the noodles roughly in half or thirds to shorten for easier eating.
Combine the sauce ingredients together, including the water, and stir to mix.
Add the drained noodles to the sauce and mix well.
Add the shrimp (or whatever protein you're using) and mix well.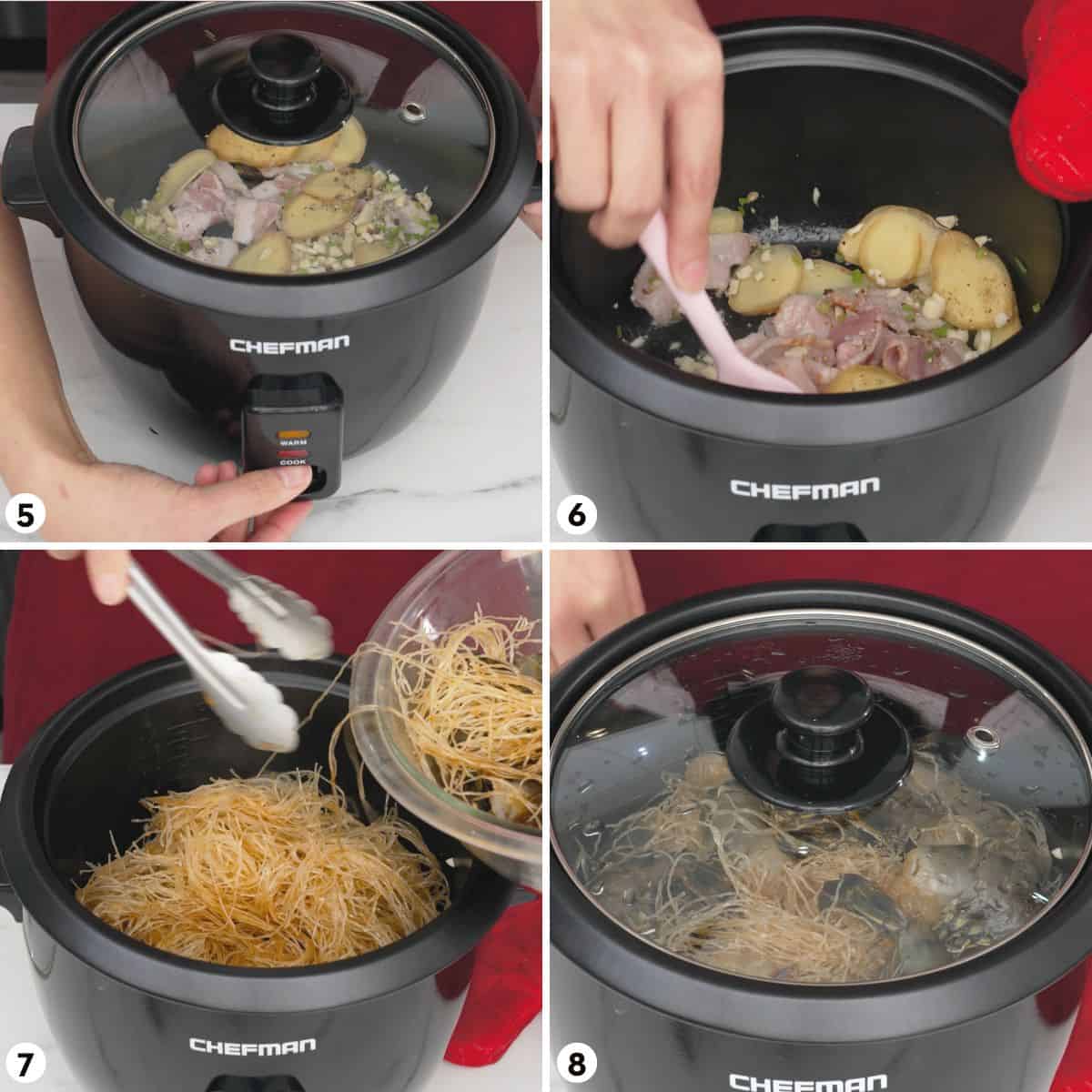 Place the oil or bacon and all of the aromatics into the rice cooker and press "cook". You can close the lid if your rice cooker needs the lid on in order to start heating, but if not, you can leave it uncovered.
Once the aromatics are sizzling, allow it to cook for about 3 more minutes, stirring a few times in between. (If your rice cooker switches to Warm Mode when you open the lid to stir, simply press cook again after you close the lid.)
Use tongs to grab only the noodles and put them into the rice cooker, then pour the sauce and the protein on top, spreading the protein out evenly.
Close the lid and let the rice cooker do its thing.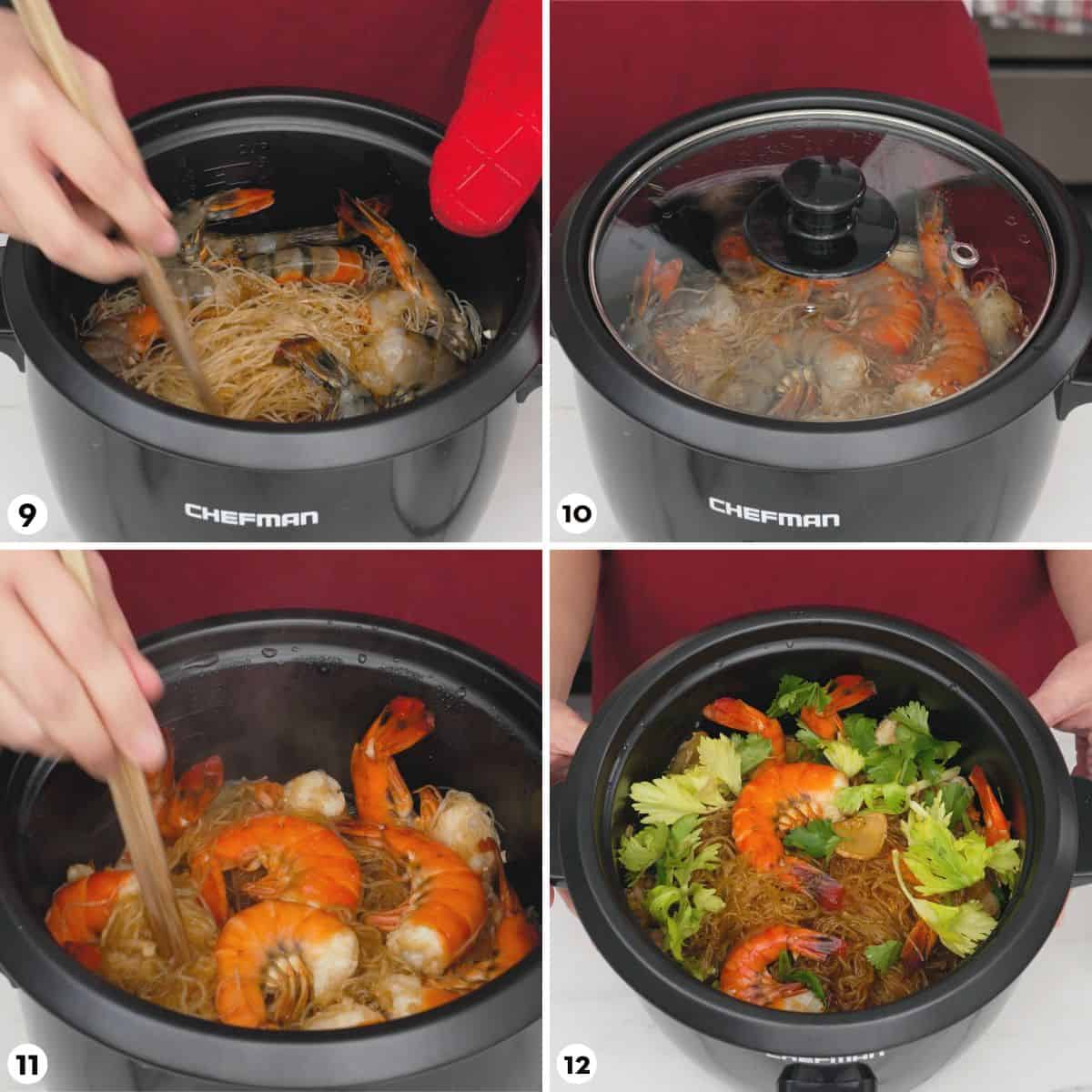 After about 4 mins, stir the noodles to redistribute the sauce. Try to keep the shrimp on top if you can and flip them over for more even cooking.
Close the lid and let the rice cooker go until it clicks off.
Once it's done, give everything a good stir to distribute the aromatics evenly. Then taste the noodles - if they are too firm, add a splash of water (~2 tablespoon at a time) and keep it cooking until it clicks off again.
Finish it off with fresh herbs of your choice, and you're good to go!
Other glass noodle recipes to try in a rice cooker
For some flavour inspirations, check out these recipes and use the methods in this recipe as a guide!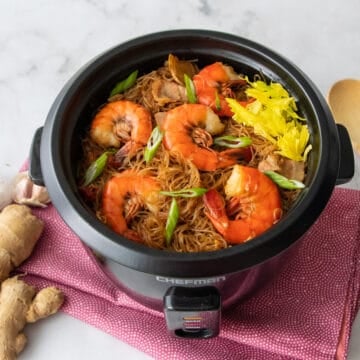 Rice Cooker Noodles with Shrimp and Ginger
Use a rice cooker to simplify and take the guesswork out of this classic Thai noodle dish goong ob woonsen. Glass noodles with shrimp and ginger, done in 15 minutes in even the most basic rice cooker. Feel free to change up the seasonings and create another rice cooker noodle dish of your own!
Ingredients
2

tablespoon

soy sauce

2

tablespoon

oyster sauce

1

teaspoon

black soy sauce or dark soy sauce

2

teaspoon

sugar

1

teaspoon

toasted sesame oil

1

teaspoon

shrimp paste in oil

,

optional

120

mL

chicken stock or water

80

g

dry glass noodles

,

sometimes labelled "bean vermicelli" or "bean threads"

12

oz

large size shrimp

,

deveined with shell on preferred (see note 1)

2

slices

low-sodium bacon or pork belly

,

cut into 1-inch chunks, OR use 2 tablespoon neutral oil

½

teaspoon

ground white pepper

½

teaspoon

Sichuan peppercorns

,

crushed (optional)

6

cloves

garlic

,

chopped

15

slices

ginger

8

cilantro stems

,

finely chopped

1

handful

celery leaves or Chinese celery

,

chopped

Jasmine rice for serving

,

see note 2
Check Out Ingredients and Kitchen Tools I Use
Notes
I like to keep the shells on the shrimp for this method as they help protect the shrimp from overcooking too quickly. I buy the "easy peel" shrimp that come with an open-back, but I recommend using scissors to cut the shell open further, all the way to the tail, to make eating them easier.
This dish is typically served with rice in Thailand, so the flavour of the noodles are quite strong. You can also eat the noodles on their own, but you may want to cut down on the seasoning slightly then so that it will not be too salty. 
FULL VIDEO TUTORIAL
All my recipes come with step-by-step video tutorials with extra tips not mentioned in the blog post, so make sure you watch the video to ensure success. If you enjoy them, consider subscribing to the YouTube Channel to not miss an episode. Thank you!
Subscribe to my YouTube Channel
Instructions
Soak glass noodles in room temperature water for 10 minutes to soften. Drain and cut the noodles with scissors in half or thirds to shorten them; this will make them easier to eat.

Mix all sauce ingredients together into a large mixing bowl, and stir until the sugar is dissolved. Put the noodles and the shrimp into the bowl and toss to mix. Let this sit until you're ready to cook.

2 tablespoon soy sauce,

2 tablespoon oyster sauce,

1 teaspoon black soy sauce or dark soy sauce,

2 teaspoon sugar,

1 teaspoon toasted sesame oil,

1 teaspoon shrimp paste in oil,

120 mL chicken stock or water,

12 oz large size shrimp

In a rice cooker, add the bacon or oil, garlic, ginger, chopped cilantro stems, and white pepper and/or sichuan peppercorns. Turn it to "cook" and cook for about 3 minutes or until the bacon fat has rendered and the garlic has softened, stirring once or twice in between. *If your rice cooker will not stay on "cook" mode without the lid on at this stage, it is okay to keep the lid on and open it once or twice to stir in between. You'll just need to press the cook button again after you put the lid back on. (more on this above)

2 slices low-sodium bacon or pork belly,

½ teaspoon ground white pepper,

½ teaspoon Sichuan peppercorns,

6 cloves garlic,

15 slices ginger,

8 cilantro stems

Use tongs to place the noodles on top of the bacon and herbs, then pour the sauce and the shrimp on top and arrange the shrimp so they're in one layer. Cover and let the rice cooker cook for about 4 minutes.

After 4 mins, open the rice cooker and use chopsticks or tongs to stir the noodles, bringing the bottom up the the top, to help redistribute the sauce. Then do your best and bring the shrimp back up to the top, flipping them so the side that is less cooked is facing down (it's not a big deal if a few of them end up under the noodles at this point.) Cover and let it cook again until the rice cooker clicks off, total cooking time should be about 10 minutes but this will vary from machine to machine.

*If you have a smart rice cooker, like the Zojirushi Neuro Fuzzy, it should be done as soon as the rice cooker starts giving you a timer countdown, or you can open and check it after noodles have been in there for 10 mins (see more about this above).

Once the rice cooker clicks off (or switches to warm mode) open and toss everything to distribute all the bits. Taste the noodles, and if they taste a bit underdone, add a splash more water (~2 Tbsp/30 mL) and keep it cooking for a few more minutes. If the shrimp are already cooked at that point, you can remove them before further cooking the noodles.

To finish, top with celery leaves and/or cilantro and/or green onions, then transfer everything into a serving dish, or serve it right from the rice cooker! Serve with jasmine rice, if desired.

PS. The slices of ginger are meant for infusion only and are not meant to be eaten, though you can if you like that strong ginger flavour.

1 handful celery leaves or Chinese celery,

Jasmine rice for serving
Watch my videos AD-FREE and get bonus content on Patreon!
Tried this recipe? Share a pic!
Tag @hotthaikitchen on Instagram and Twitter!