When you think of Thai noodles, pad thai, pad see ew and maybe pad kee mao come to mind. But rad na, also called lad na, is another noodle dish beloved by Thai people - yet very few Thai restaurants overseas offer it. It's a dish that showed up regularly on our dinner table in Thailand, and one that deserves a place on yours!
Chewy wide rice noodles are drenched in a luscious pork gravy; it's the "comfort food" of Thai street food. It's simple and quick to make, but the quality of ingredients are important, so some attention is required. Let's dive in!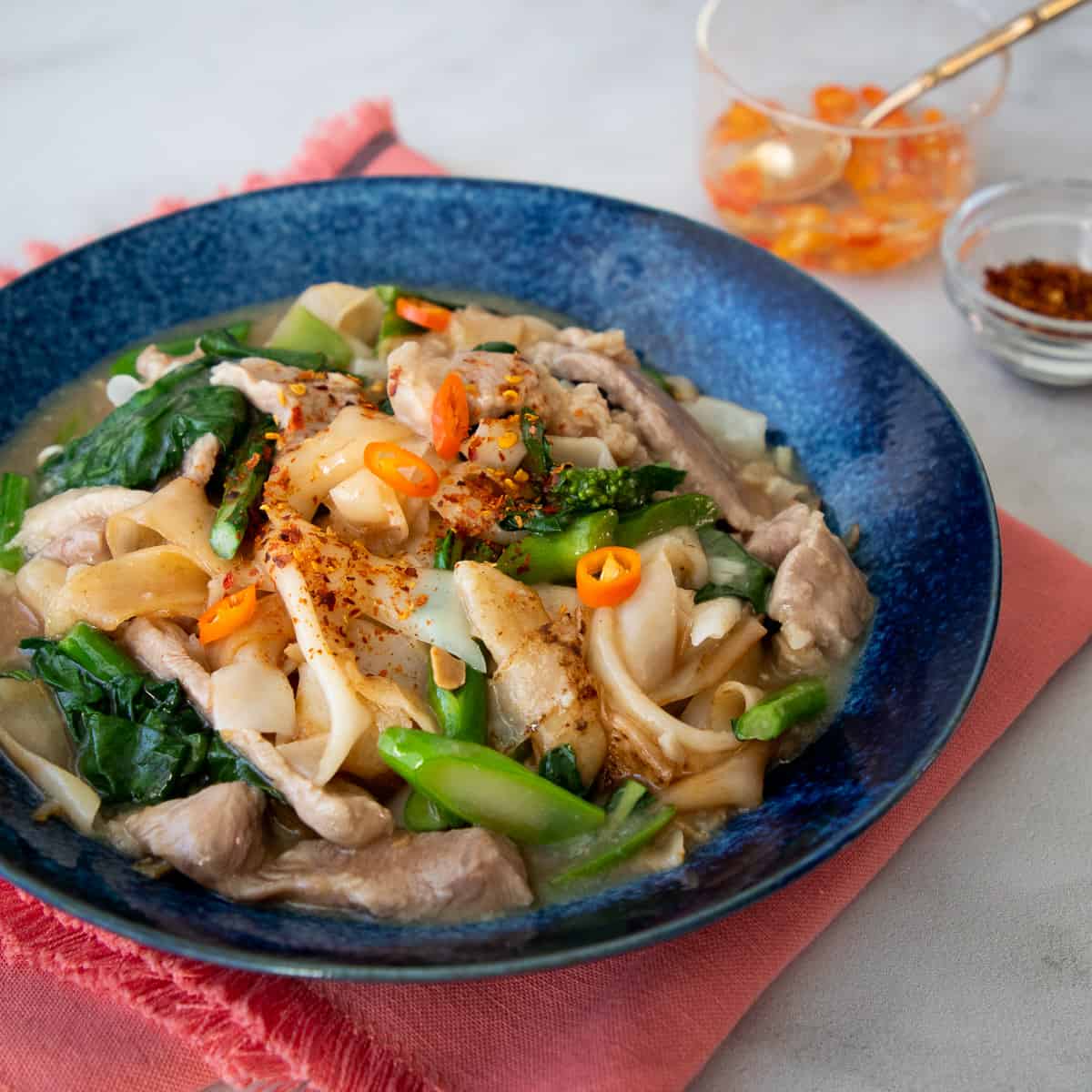 What is Rad Na or Lad Na?
Rad na (pronounced raad-nah) is sometimes written as rat na, lad na, rad nah, or something similar. The name refers to the pouring (raad) of the gravy onto the "face" (na) of the noodles.
It's a dish that can be found all over Thailand; often sold by casual eateries such as street food vendors or food courts, but fancier versions involving seafood is sometimes served in higher end restaurants.
If you have some experience with Thai cooking, you might think that rad na doesn't look particularly Thai. No chilies, lemongrass, coconut milk...not even fish sauce!? This is because rad na, like most of our noodle dishes, has a Chinese origin. Rest assured though this is a solid part of Thai food culture, and you can find it just about anywhere you go in Thailand.
Ingredients
Rad na has a few components to it: the marinated pork, the noodles, and the gravy - plus some optional condiments. It sounds like a lot, but I promise they're all quite simple.
Marinated Pork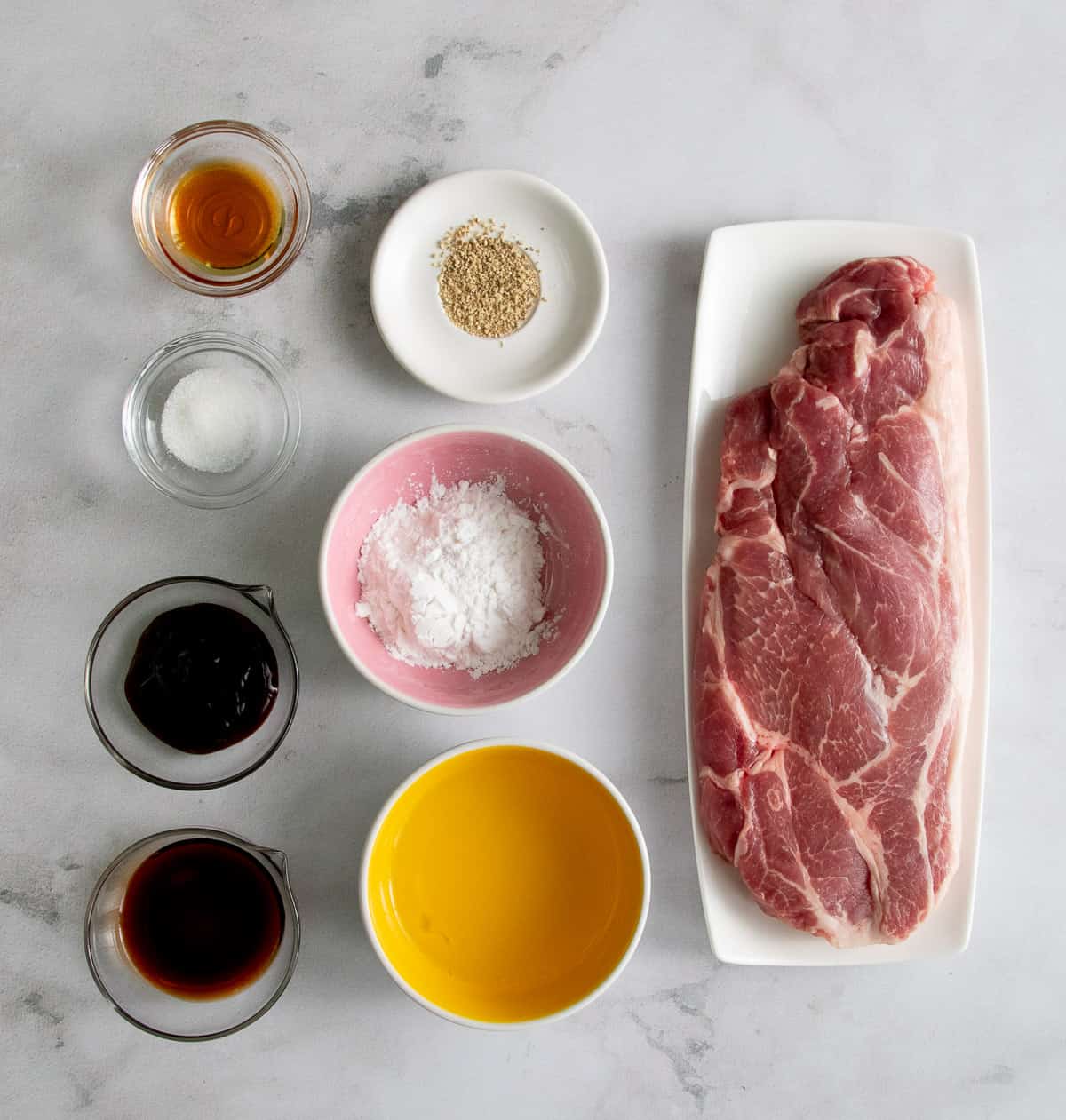 Pork shoulder (pork butt). You can substitute pork loin or tenderloin if you prefer it leaner, but pork butt has more flavour and remains juicier because of the fat. If you don't eat pork, chicken will work.
Oyster sauce
Soy sauce
Toasted sesame oil
Sugar
Ground white pepper
Tapioca starch or cornstarch
Egg white
The Noodles & Gravy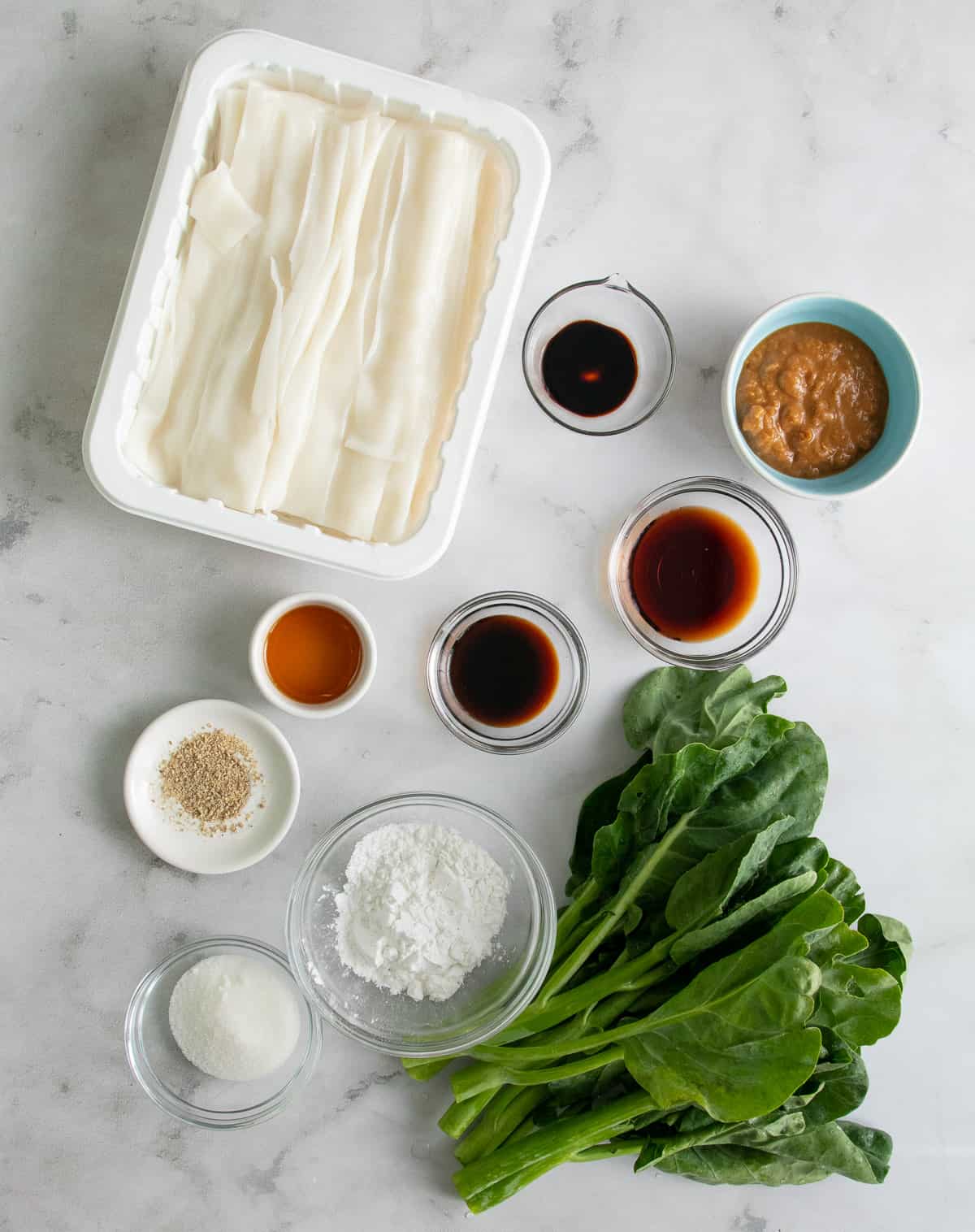 Fresh wide rice noodles (ho fun). These are the default noodles for rad na, and the best one IMO; though if you can't find them, see alternatives below - or you can try making them using my fresh rice noodles recipe.
These need to be separated before cooking, but if they are cold, hard and stuck together you will need to reheat them until hot and soft first. Fresh rice noodles are impossible to peel apart without breaking when cold, so don't even try it. You can microwave them (see video tutorial for my microwaving technique) or you can cover them in a towel and steam.
Black soy sauce or dark soy sauce. If you don't already have it though, I wouldn't run out to buy a bottle just for this recipe as it's mostly for colour.
Garlic
Thai fermented soybean paste (tao jiew). This is the key component of rad na, and you can think of it as the Thai version of miso. The bottle is labeled as "soy bean paste" or "yellow bean sauce". Miso is a good substitute, and I have had success using the same quantity of low-sodium miso or using slightly less regular miso.
Once you've got a bottle, try using it in these other recipes: steamed fish with ginger, and Hainanese chicken rice.
Pork stock. There is no ingredient more important to the flavour of this dish than the pork stock. It makes up the bulk of your gravy, so the stock has to be good, and it should be made using Thai or Asian aromatics. Pork stock can be made using pork bones (available in Asian markets) and can be done in an instant pot (30 mins on high pressure will do). See my pork stock recipe here.
If you don't eat pork, you can use chicken stock, but again homemade Thai- or Asian-style for best flavour. Store bought is not recommended for this one. Here's my chicken stock recipe.
Soy sauce
Golden Mountain Sauce. You can sub Maggi seasoning, oyster sauce or even fish sauce.
Sugar
Tapioca starch. This is the traditional gravy thickener. Cornstarch will work but I do prefer the texture of tapioca. Also if you plan on re-heating the gravy, I highly suggest using tapioca starch as cornstarch can gel up in the fridge and becomes harder to get smooth again.
White pepper
Toasted sesame oil (optional)
Gai lan (Chinese broccoli), preferably the smaller ones which tend to be less bitter. Broccolini is great as a sub; and if nothing else, regular broccoli will work. If you want to play around a bit, other vegetables that can work include crunchy veg like carrots and baby corn.
If you have leftover gai lan, use it in this magnificent side dish.
Common Condiments (optional)
Chili vinegar - prik nam som. This is simply sliced hot chilies in white vinegar, and it's used on many of our noodle dishes such as pad see ew and noodle soups. It adds tartness, which helps cut the richness of the gravy.

This is optional, but if you ask me, I think the bright acidity is very important in keeping the dish in balance. The chilies can be eaten if you like it spicy, or just drizzle on the mildly spiced vinegar.
Roasted chili flakes; the Thai all-purpose heat-booster that I always have in the fridge. Spicy dried chilies are toasted for smokiness and then ground up. As a shortcut you can toast store bought pepper flakes. Further instructions in the recipe card.
How to Make Rad Na/Lad Na
Here's a bird's eye view of the steps, but I highly recommend watching the video tutorial to ensure success, as it's much easier to learn by watching it all in action!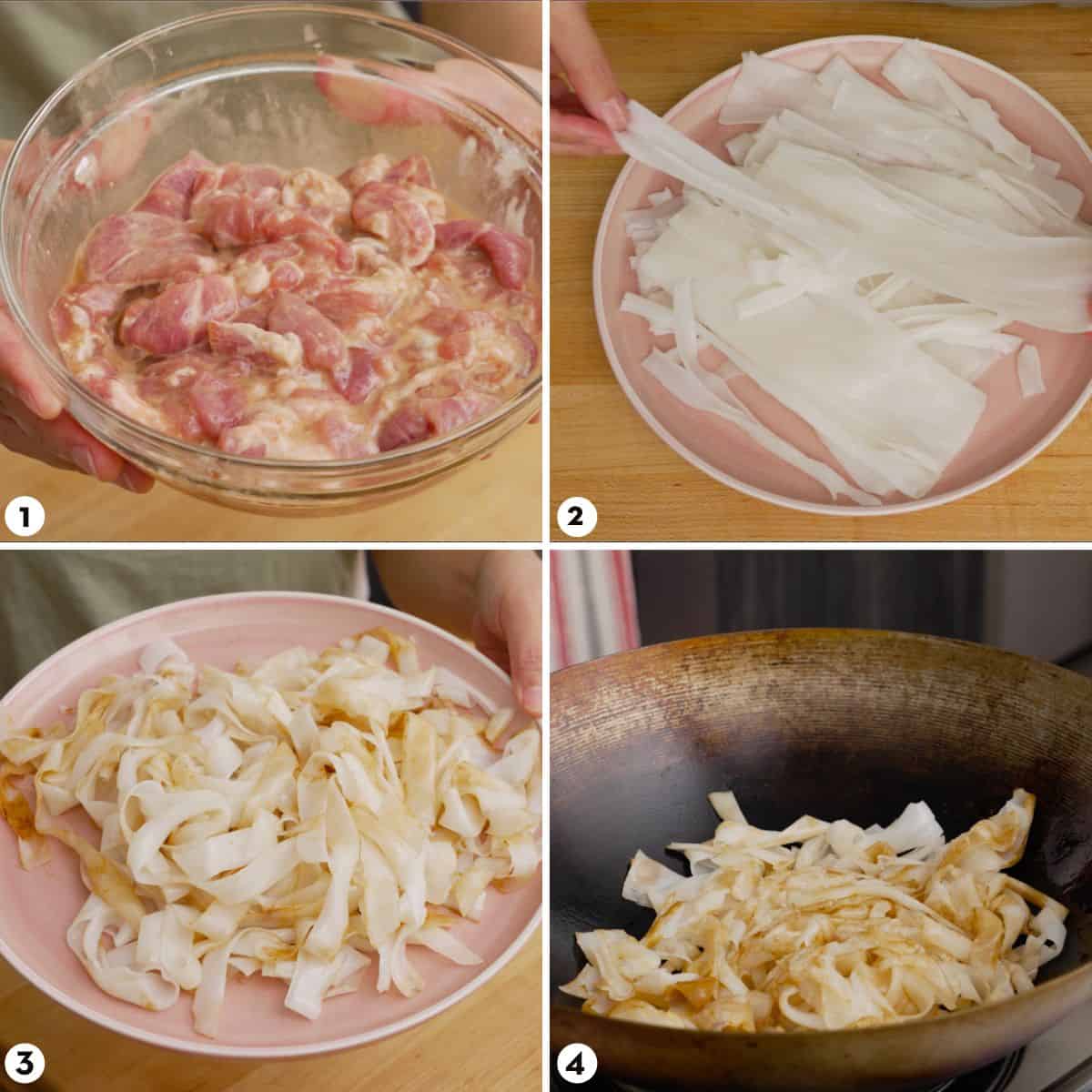 Combine the pork with all marinade ingredients; set aside for at least 20 minutes and up to one day ahead. If you want to make the chili vinegar, now is the time to make it as well (see "condiments" above).
Separate the noodles into individual strands. If they're cold and stuck together, microwave them until hot and soft (see video for my technique). You can also cover with a towel and steam them.
Toss the noodles in black soy sauce to add colour.
Heat a wok or a large nonstick skillet on high heat, add a little oil, and once the pan is very hot, spread the noodles in the pan and allow them to toast without stirring. Once the noodles are toasted and charred slightly, flip and toast the other side. Remove and set aside.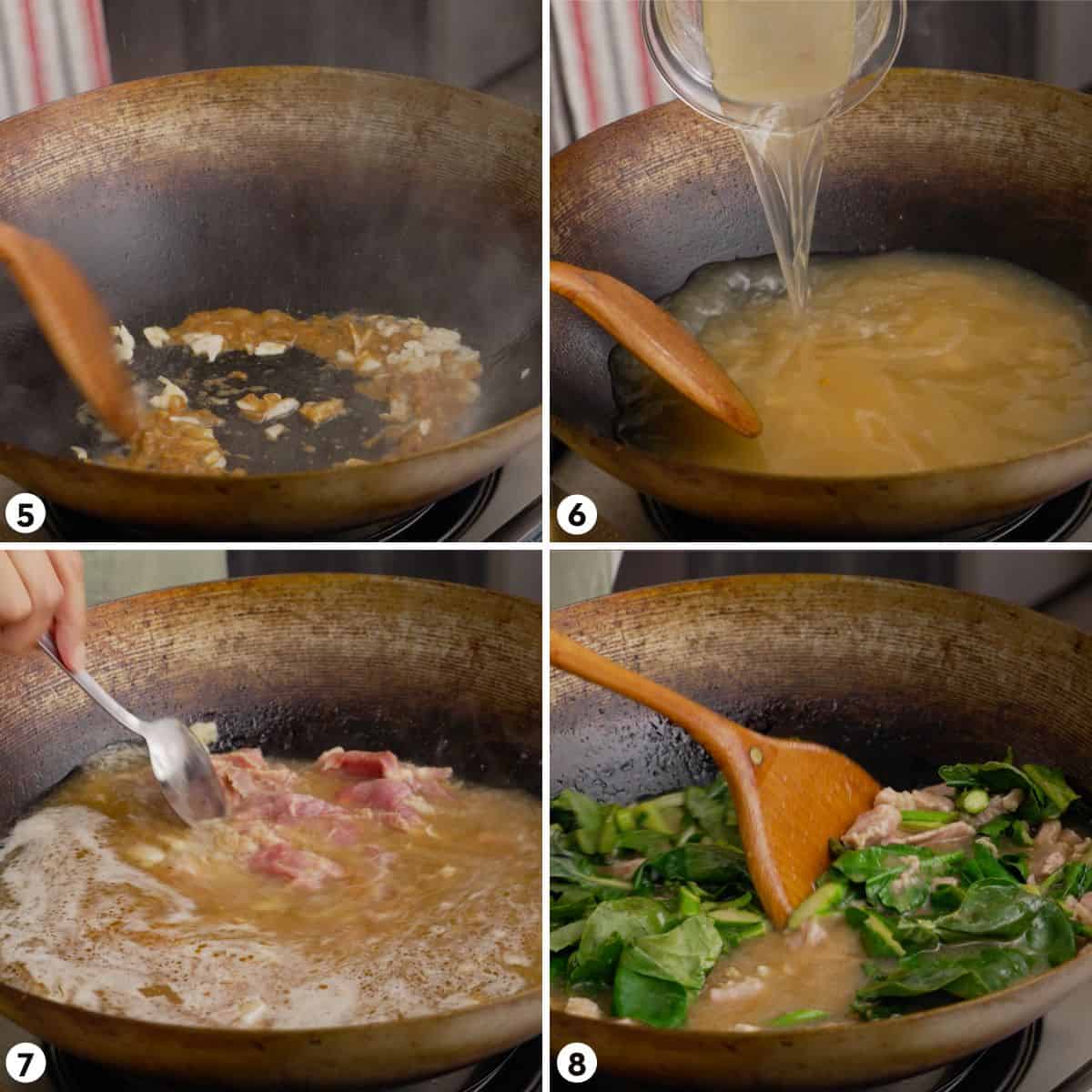 For the gravy: In a wok, heat oil over medium heat, then saute garlic and tao jiew until the garlic starts to turn golden.
Add the pork stock and all seasonings. Turn the heat up to high and bring to a rolling boil. Meanwhile, combine the tapioca starch and water to make a slurry (not pictured).
Add the pork, and quickly stir to spread the pieces apart.
Add the Chinese broccoli and stir to mix.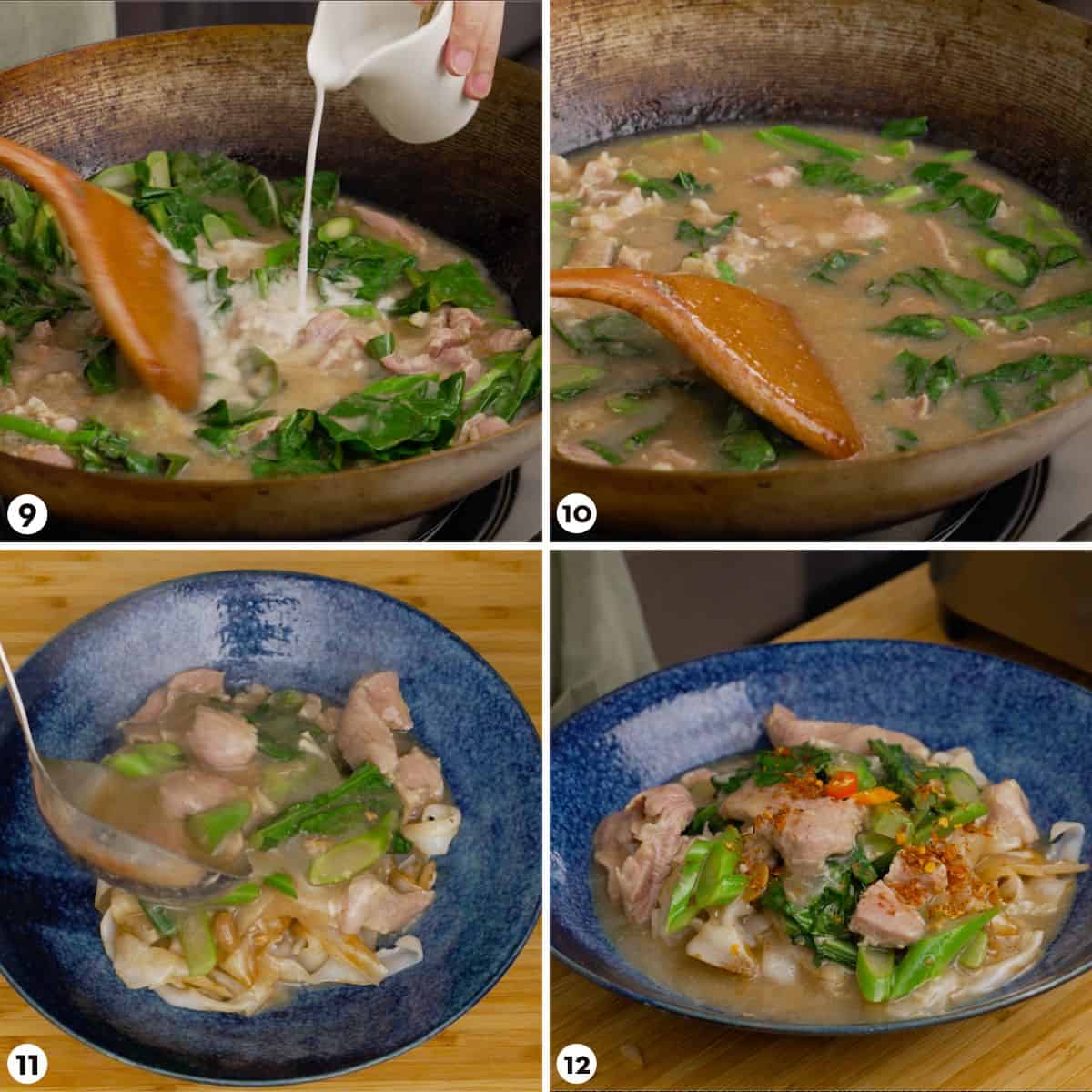 Once the sauce boils, stir the starch slurry then pour HALF of it into the sauce and immediately stir to mix. When the sauce comes back to a boil, if the sauce is too runny add a little more starch slurry.
The consistency should be jus thick enough to coat the noodles, not thick and gloopy!
Place noodles onto a serving plate or a shallow bowl and ladle the gravy over.
Top with chili vinegar and roasted chili flakes (if you want), and serve right away!
Noodle Alternatives
Ho fun or wide flat rice noodles can be hard to find if you don't have large Asian grocery stores nearby. So here are some alternatives:
Thin rice noodles or "rice vermicelli"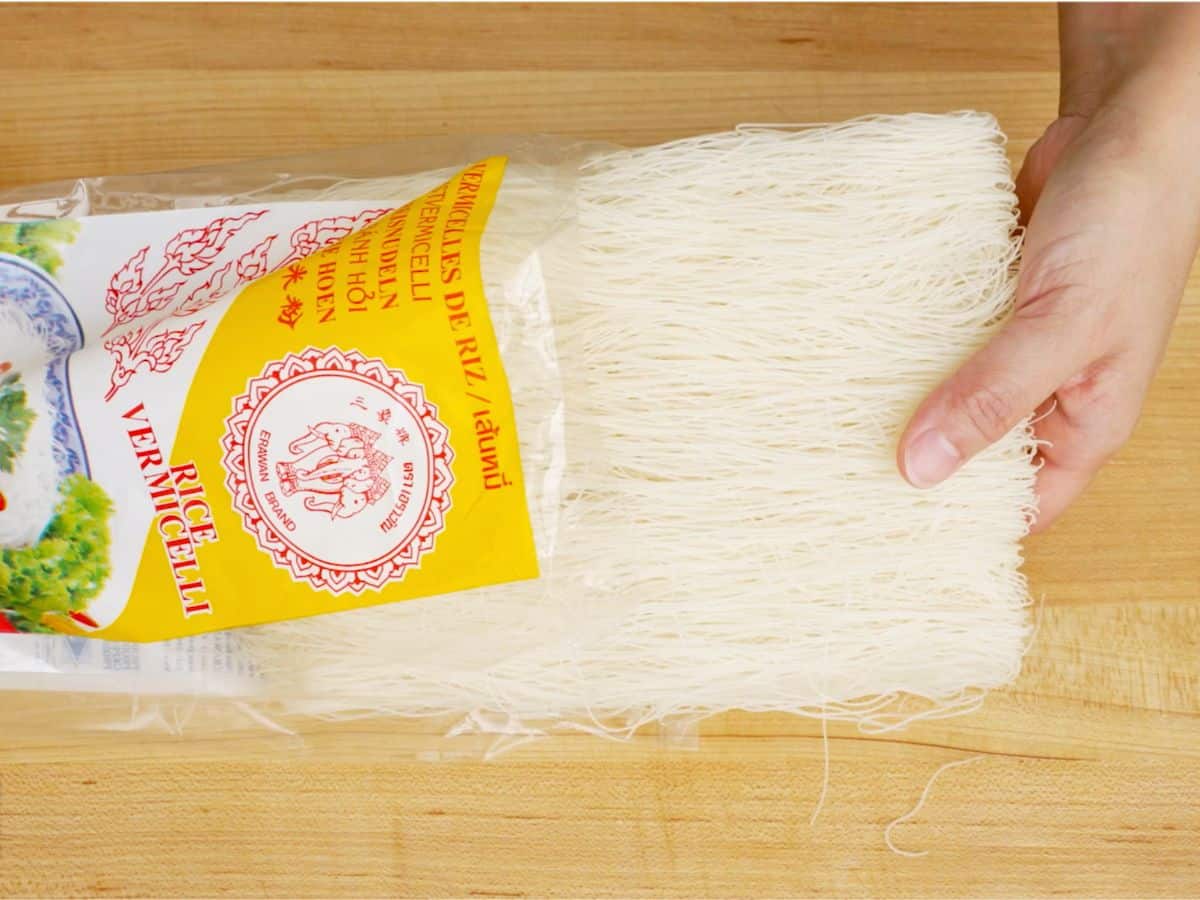 This is a very popular option for rad na in Thailand - and while I personally prefer the wide noodles, many people prefer these thread-thin ones.
To use: soak them in room temp or lukewarm water until they are completely hydrated - they should droop completely and not resist gravity at all when picked up. Depending on the brand and your water temperature, this could take anywhere from 5 to 15 minutes.
Toss them with the black soy sauce as you would with the flat noodles, then saute them in a wok with a bit of oil for a few minutes to cook them through.
You can watch a video of me using these noodles in my easy vermicelli pad see ew recipe.
Wonton noodles or egg noodles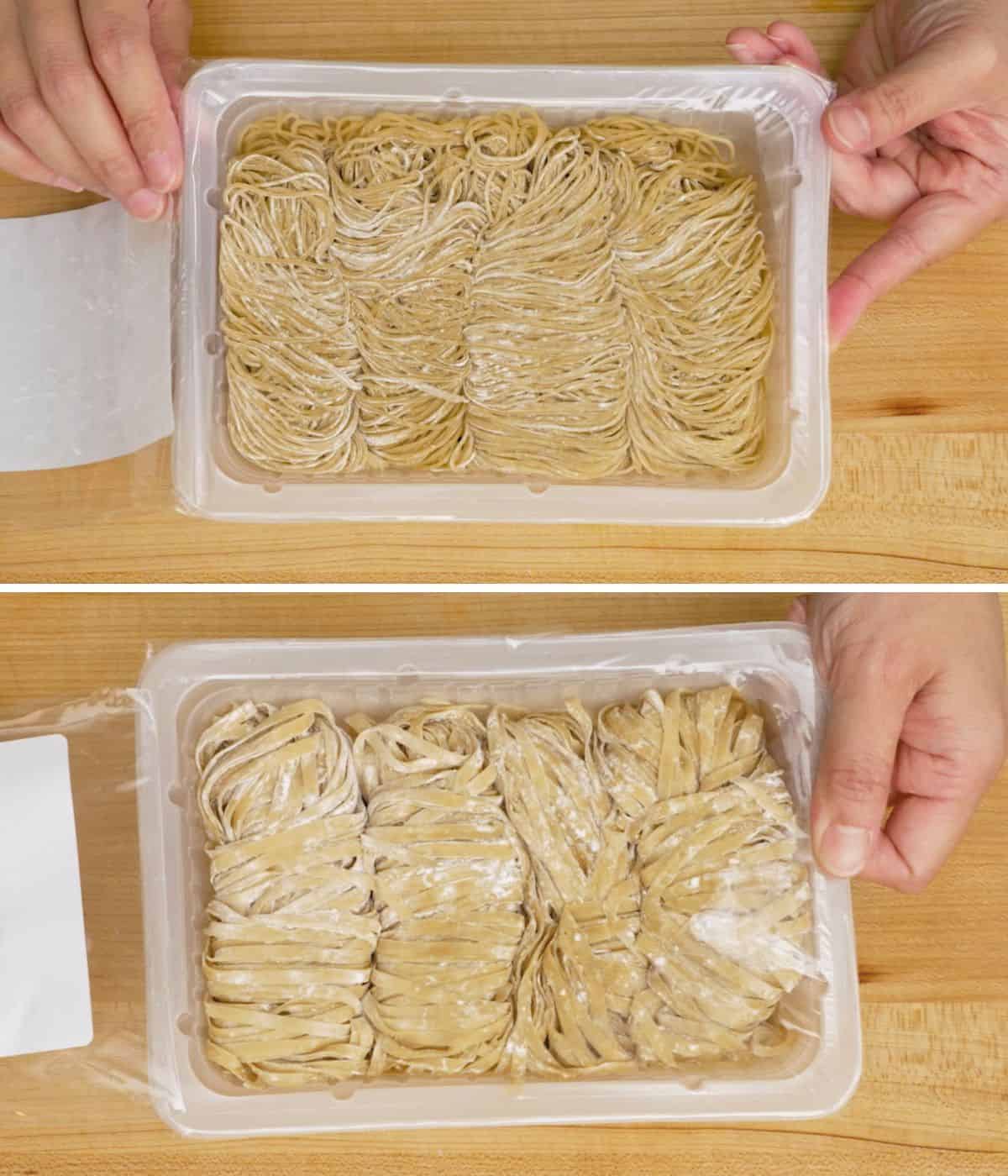 Wonton noodles is another rad na noodle option in Thailand. They are fresh noodles and are commonly available at Asian grocery stores in the fridge. They come in two different shapes and either one will work so whichever you prefer.
To use: Loosen them up by hand then boil them in water for 1-2 minutes (check them after 1 minute). Drain and toss them with some neutral oil (or garlic oil if you have it) to prevent sticking. You can skip the black soy sauce and the toasting step for these.
Crispy fried noodles
Sometimes the thin wonton noodles above can be deep fried until crispy, before the gravy is poured over them. This is what we call for mee krob rad na.
It may seem odd to make crispy noodles only to drench them in sauce...but trust me, they do retain some crispiness while you eat, and it's quite tasty!
To use: Loosen them up by hand then fry them for just a few seconds in 350°F (180°F) oil until they are puffed and crispy. Quickly remove them from the oil and drain. You can see me fry some wonton noodles here in my khao soi recipe.
Velveting - The key to juicy, tender pork
You might be surprised by two ingredients in the pork marinade: tapioca starch and egg white.
Adding these ingredients to meat marinade is a common technique in Chinese cooking. When cooked, the starch and egg white form a "shell" around the meat which keeps it juicy and tender. It also gives the meat a nice "velvety" mouthfeel. In Thai cooking sometimes only the starch is used when a thinner velveting is desired (or to cut costs!).
You can apply this technique to stir fries, which is where velveting is most commonly used. In Chinese restaurants, meat for stir fries is usually deep fried first to cook the velveting mixture on, then they are tossed with the sauce and other ingredients in the wok. The velveting protects the meat from the intense heat and keeps the juices in.
At home, you don't have to deep fry the meat though! You can simply blanch it in boiling water like I do in my garlic lime pork recipe.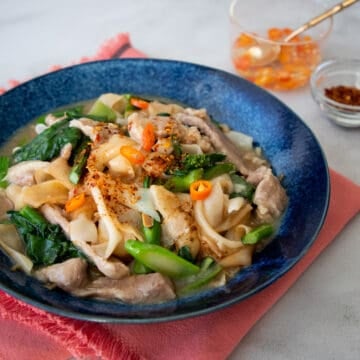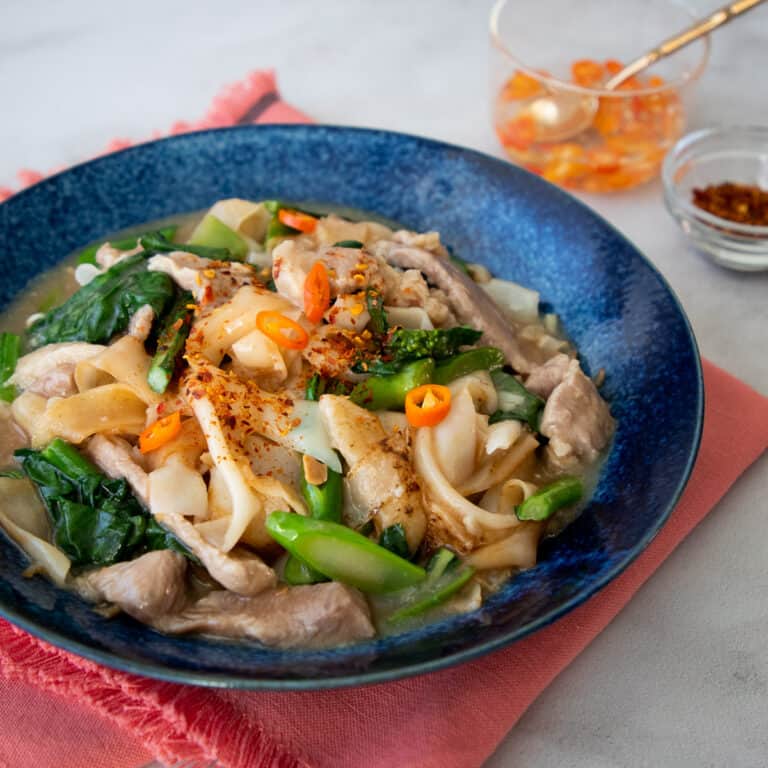 Rad Na - Fresh Rice Noodles with Pork Gravy ราดหน้า
A hidden gem of Thai street food, rad na is made from chewy fresh rice noodles that are toasted, then drenched with a tasty pork gravy. It's a quick meal that is simple to make at home! If you don't eat pork, chicken can be substituted.
Ingredients
Marinated Pork
12

oz

pork butt (shoulder)

,

sliced into bite sized pieces, about ⅛" thick

1

tablespoon

soy sauce

1

tablespoon

oyster sauce

1

teaspoon

toasted sesame oil

½

teaspoon

sugar

¼

teaspoon

white pepper

2

tablespoon

tapioca starch

,

or cornstarch

1

large egg white
The Noodles
25

oz

fresh wide rice noodles

,

(see note 1)

1

teaspoon

black soy sauce

,

or dark soy sauce

1

tablespoon

neutral oil
The Gravy
2

tablespoon

neutral oil

6

cloves

garlic

,

chopped

3

cups

pork stock

,

unsalted, preferably homemade (see note 3)

1½

tablespoon

soy sauce

1½

tablespoon

sugar

1

teaspoon

toasted sesame oil

½

teaspoon

ground white pepper

7

oz

Chinese broccoli (gai lan)

,

stems thinly sliced on a bias, leaves roughly chopped

¼

cup

tapioca starch

,

(see note 4)

¼

cup

water
Condiments (optional)
Chili vinegar

,

highly recommended (see note 5)

Roasted chili flakes

,

(see note 6)
Check Out Ingredients and Kitchen Tools I Use
Notes
If fresh rice noodles are not available, you can use 8 oz (225 g) of dried wide rice noodles, 8 oz (225 g) dried rice vermicelli (the super thin ones), or 12 oz (340 g) wonton noodles.
I have had success using the same quantity of low-sodium miso. If using regular miso, start with 2 tablespoon and add more at the end if it needs more salt.
A good pork stock is the most important part of rad na's flavour so I recommend making your own if possible; here's an easy pork stock recipe. A good chicken stock will also work.
While cornstarch will also work, tapioca starch is preferred as it cooks up clear and is the traditional texture of rad na. It also reheats better because cornstarch tends to gel up in the fridge and can be stubborn to get it smooth again.
For the chili vinegar, you just need some white vinegar and any kind of spicy chilis such as Thai chilis, serranos or jalapenos. Whether red or green is up to your preference. Instructions for how to make it is below.
Roasted chili flakes are useful, common condiments that we use to add heat to any dish. Simply toast some hot pepper flakes in a dry saute pan over medium low heat for a few minutes, stirring constantly until they darken slightly and smell smokey. You can also toast whole dried chilies in the same manner until they're slightly charred, then grind into flakes in a spice grinder.
All my recipes come with step-by-step video tutorials with extra tips not mentioned in the blog post, so make sure you watch the video to ensure success. If you enjoy them, consider subscribing to the YouTube Channel to not miss an episode. Thank you!
Subscribe to my YouTube Channel
Instructions
Marinade the pork:
Mix the pork with all the marinade ingredients, and let sit for at least 20 minutes and up to a day ahead.

12 oz pork butt (shoulder),

1 tablespoon soy sauce,

1 tablespoon oyster sauce,

1 teaspoon toasted sesame oil,

½ teaspoon sugar,

¼ teaspoon white pepper,

2 tablespoon tapioca starch,

1 large egg white
For the Chili Vinegar
Thinly slice hot peppers of your choice then add to a small bowl. Cover with white vinegar and let sit for at least 15 minutes, or until ready to use (amounts do not need to be precise). This will keep indefinitely in the fridge.
Cook the noodles:
Toss the noodles together with the black soy sauce to stain them. You can make them darker or lighter according to your preference.

25 oz fresh wide rice noodles,

1 teaspoon black soy sauce

Heat a large work or a nonstick frying pan over high heat. When the pan is very hot, add the oil, then add the noodles and spread them out as much as you can.  The goal is to get some browning on the noodles, so let them sit and char a bit without stirring. Once the bottom side is toasted, flip the noodles and repeat on the other side. 

The noodles will start to stick together as they toast - this is okay as they will loosen once the gravy goes on them. But once they start looking a bit clumpy, it's a sign that you should take them out of the pan soon, as too much clumping makes them hard to separate later. Set the noodles aside.
For the Gravy:
In a wok or a large saucepan over medium heat, add the oil, garlic and fermented soybean paste. Saute until the garlic starts to turn golden brown. Deglaze with the pork stock then add the soy sauce, Golden Mountain Sauce, sugar, white pepper, and sesame oil; bring to a full boil.

2 tablespoon neutral oil,

6 cloves garlic,

3 tablespoon Thai fermented soybean paste (tao jiew),

3 cups pork stock,

1½ tablespoon soy sauce,

1 tablespoon Golden Mountain Sauce,

1½ tablespoon sugar,

½ teaspoon ground white pepper,

1 teaspoon toasted sesame oil

While waiting for the sauce to boil, put the tapioca starch in a bowl and add just enough water to dissolve it - about ¼ cup but no need to be precise here. Stir to make a slurry and set aside (leave the spoon in the bowl, you'll need it again).

¼ cup tapioca starch,

¼ cup water

Once the sauce reaches a full boil, add the pork and spread the pieces out quickly. Once the pork pieces are all separated, stir in the Chinese broccoli and bring the sauce to a boil.

7 oz Chinese broccoli (gai lan)

Once boiling, give the starch slurry another stir, then pour HALF of it into the gravy and quickly stir to mix. Once the sauce returns to a boil, it will have thickened, and if you want it even thicker, add more of the remaining slurry. Remove from heat when you are happy with the sauce consistency, which should just be thick enough to coat the noodles, but not gloopy. Note: Always wait until the sauce returns to a boil before deciding if it needs more thickening. 

Taste and adjust seasoning as needed. If it needs more salt, add more tao jiew or miso (if you want to add more miso paste, dissolve it in a small amount of water first before pouring it in). You can also add more white pepper if you like.

To serve, divide the noodles into serving bowls, then ladle the gravy over the noodles. Serve with prik nam som and/or roasted chili flakes. Enjoy!

Chili vinegar,

Roasted chili flakes
Watch my videos AD-FREE and get bonus content on Patreon!
Tried this recipe? Share a pic!
Tag @hotthaikitchen on Instagram and Twitter!