---
Chewy, tender fresh rice noodles drenched in a tasty gravy and tender pork, Rad Na is one of the most popular lunch items in Thailand!
Watch The Full Video Tutorial!
All my recipes come with step-by-step video tutorials with extra tips not mentioned in the blog post, so make sure you watch the video below to ensure success - and if you enjoy the show, please consider subscribing to my YouTube channel. Thank you!
Print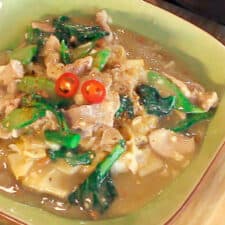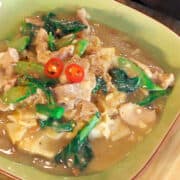 Rad Na ราดหน้า (rice noodles with gravy)
---
1

lb fresh wide rice noodles or very thin rice noodles

1

-

2

tsp black soy sauce

2

-

3

stalks Chinese broccoli, stems thinly sliced on a bias, and leaves roughly chopped
Marinated Pork

200 g

pork, sliced into bite sized pieces, about ⅛" thick

2 Tbsp

tapioca starch or cornstarch

2 tsp

soy sauce

2 tsp

oyster sauce

¼ tsp

white pepper

¼

 tsp sesame oil

1

egg white (~

2 Tbsp

)
Rad Na Sauce

2 Tbsp

chopped garlic

2 Tbsp

tao jiew fermented soy bean paste (what is this?)

2 cups

chicken or pork stock, unsalted, preferably homemade (see note)

1 Tbsp

soy sauce

½

  Tbsp Golden Mountain sauce (what is this?)

2½ tsp

sugar

1

-

2

Tbsp tapioca starch or corn starch

¼ tsp

white pepper
Condiments

Chili flakes
Prik nam som (pickled chilies, made simply by soaking slices of hot peppers like jalapenos in some white vinegar for at least 15-20 minutes before using)
---
Instructions
Marinade the pork:
Mix the pork with all the marinade ingredients, and let sit for at least 30 minutes or one day in advance.
Cook the noodles:
 Heat a large work or a sauté pan with enough oil to coat the bottom over high heat. When the pan is very hot, add the noodles and the black soy sauce to the pan and toss the noodles quickly to coat in the sauce. The goal is to get some browning on the noodles so you can let them sit and char a bit without stirring. The noodles will start to clump up together a bit as they dry, remove them from heat when this happens. Set the noodles aside.
Make the sauce: 
In a wok or a large saucepan over medium heat, add about 2 Tbsp vegetable oil, chopped garlic and fermented soy bean paste. Saute until the garlic starts to turn golden brown.
Add the stock, soy sauce, Golden Mountain sauce, sugar and white pepper; bring to a full boil.
While waiting for the sauce to boil, dissolve tapioca starch or cornstarch in about 3 Tbsp of water to make a slurry and set aside.
Once the sauce reaches a full boil, add the pork and spread the pieces out quickly.
When it comes back to a boil, add the Chinese broccoli.
Pour half of the tapioca/corn starch slurry slowly into the sauce while stirring and bring to a boil. The sauce will thicken, and if you want the sauce to be thicker, add the rest of the starch slurry. Remove from heat when you are happy with the sauce consistency.
Taste and adjust seasoning as needed.
To serve, pour the sauce over the noodles, and serve with chili flakes and Prik Nam Som.
Enjoy!
---
Notes
If you cannot find tao jiew, you can substitute 2 Tbsp of "dao ci" or Chinese salted black beans. See video for more info on these two ingredients.
Store bought stock tends to be salted, even ones labeled as "low-sodium," and it will make the sauce too salty. A homemade stock made with pork bones (available at most Chinese butchers) will yield the best result, but if you must use store bought stock, look for one with no salt added.